The Virtual Corporation...
Optimized Results includes the specialized services of other companies and individuals with whom I've developed professional relationships. Our goal is to get you the best, most tailored and appropriate service possible. Business categories are listed below:

Addiction Therapy - LGBTQ specialization
Small Business Consulting and Accounting Systems
John P. Wales, CPA

John takes his clients' finances seriously. Knowing that a business owner cannot know where they are without clean and thorough accounting, he takes pride in providing expert advice in tax matters along with accounting principles, and timely work.

Get in touch with John at 415-986-1120 or
email John

*************************
Addiction Therapy - LGBTQ Specialization
Headlands ATS
Board Certified Treatment Experts

Each patient's path to recovery relies on access to effective addiction treatment services and compassionate support.

Are you an addiction treatment program looking to improve the lives of your patients? If you want to improve your program's success by offering more effective services, collaborating with reliable experts, and overcoming obstacles, call us today to learn how we can help you.
call today: 760-704-9429 or schedule a call from us:
https://headlandsats.com/
*************************
Artists - Animation, Fine Art, Graphic Design
Dawn Mandle
Fine Arts meets Web Design and Programming.
Dawn took the ideas from my head, along with sketches, photographs, and conversation, to create almost all the graphic elements on this web site. Take a look at her web site to be amazed.

Get in touch with Dawn:
email Dawn
www.visualplanets.com

Cynthia Tom
Brilliant Surrealism and Sociological Reflection in multiple dimensions.
Cynthia creates her artwork with a variety of mediums, primarily acrylics. She develops her paintings largely from psychological inspiration. Often, a symbol, an image, or a phrase will begin her creative art process. Each painting develops like the telling of a story, and her use of intense colors and ethereal use of perspective has become her trademark.
She is a seeker and philosopher about issues in her life, her ancestors and her community of women. Symbols, cues and clues fill her work, which has been described as "Cultural Surrealism

Get in touch with Cynthia at (415) 564-1864 or
email Cynthia
www.cynthiatom.homestead.com

*************************
Optimized Results of course!
Contact Ian Blei at:

*************************

King Courier - Andrew Brady & Steve Buford

From a one page document to a 200 pound box, King Courier can get your deliveries across town or across the Bay faster than you can get Fed Ex on the phone. Unanimous praise from every customer is the hard won reputation they proudly wear.



Get in touch with Andrew or Steve
email King Courier
web site
415.865.5464

*************************

Tyce Fields - Farmer's Insurance
The Fields Agency

If you're tired of the interchangeable nature of the average insurance agent, Tyce will be a refreshing change. He's a bona fide good-guy, family man, with a value system that's easy to feel aligned with, and a very multi-dimensional, rich set of interests including everything from theater and music to wine tasting and sports. Along with his extensive knowledge of the industry and how to best match your needs to what's available on the market, Tyce sets himself apart with a significant personal touch: he truly cares about his clients and he really listens. Tyce understands what people are concerned about, and will work tirelessly to help them

protect, preserve and grow their assets.

Get in touch with Tyce at 650-931-8616 or
email Tyce
LinkedIn Profile


Wendy McLaughlin, CLU®, ChFC®, CASL®
New York Life Insurance

Wendy helps people plan for retirement and a whole lot more. She discusses with you how much to save and how to make sure you don't outlive your savings. She helps people plan for their kids to go to college; choosing the best investments and figuring out how much to save to reach their goals. She helps people figure out how much life insurance they need and what type of insurance is best for them. She explains and shows different types of long term care insurance. Wendy has been an insurance agent and registered representative since 1987, and prides herself on good service, hand holding, education, and honest opinions.

Wendy's specialties include Long Term Care Insurance, Life Insurance, Health Care reform information, and Annuities.



Get in touch with Wendy at 650-355-6610 or
email Wendy
Wendy's Site


*************************

Jaime C. Uziel - Sheppard, Rosen, Uziel and Sussman Law Firm, LLP

Jaime Uziel specializes in real estate, landlord-tenant, premises liability, business contract disputes, and general civil liability cases. He has been a licensed California real estate agent since 1990.

Jaime Uziel is an experienced litigator in the fields of real estate law, landlord-tenant law, rent control law, premises liability, landlord liability, business, contract disputes, zoning and land-use matters, and tort and personal injury claims.

email Jaime

*************************

Allison Bliss Consulting
Allison Bliss Consulting offers business consulting and marketing services to CEO's, business owners and independent professionals helping them find key markets to increase clientele

. Allison's understanding of how to integrate marketing with all other aspects of your business, rather than "sitting on top" of them is just one of the things that sets her apart. Additionally, her ability to truly listen to the client, and get to the core message that "fits" your values as well, gives her clients the peace of mind rarely found in marketing campaigns.


email Allison
www.allisonbliss.com
phone: 510.879.7600


*************************

Smart Puzzle
Serena Fuchs brings her combination of experience teaching, speaking, conducting research, and working with various industries from industrial manufacturing to biotech. Her education includes a Bachelor of Arts in Psychology from the University of California, San Diego, a Bachelor of Science in Biology from the University of California San Diego, a Master of Science in Nutrition from the University of Hawaii, and a Certificate in Integrated Marketing from Oakton Community College in Illinois. Ms. Fuchs draws on a wide breadth of skills to bring customized, take-action oriented processes to Smart Puzzle Inc.'s time management and effectiveness training services.


email Serena
www.smartpuzzle.com
phone: 408.333.9390
fax: 650.618.2703

*************************

*************************

Sam Pinfold - On The Mark Graphics, Printing

, & Mailing Co.
When it has to be right the first time

Full color printing and direct mail is just a part of what they offer. On The Mark is a leader in the industry as your integrated printing, marketing, and direct mail partner. Fast turnaround, exceptional quality, discount printing prices, and experience make On The Mark the one call you need to make for all your printing and graphic needs. Sam makes you look good on paper. He's a printer.

call Sam at: 415.621.2312
email Sam
web site


*************************

Maggie Visser - Paragon Real Estate

Maggie is all about excellence; it's the driving force in her life. Whether it's at work, with family or friends, or competing in a race, she loves doing her best. As an accomplished athlete, Maggie uses the thinks she's learned through running to achieve excellence in all other aspects of her life. She sets high goals, does what she loves, works hard, and is always open to learning how to be even better.

Maggie's always been inspired by buildings. She came into the real estate field via urban planning and civil engineering, as well as growing up with a home-building dad. Maggie has fantastic listening skills, devotion to customer service, attention to detail, and respect for deadlines. these are all vital qualities in any real estate transaction. Her business approach is direct: she listens to her clients' needs, helps map out the right path to achieve their goals, and negotiates the best possible deal on their behalf, always placing their interests first in every transaction.


Call Maggie at 415-793-3470 or
email Maggie
Maggie's Site


Kelly Kang - Paragon Real Estate

Kelly comes to real estate by way of her previous life as an attorney, thus bringing far more to the table than your average realtor. As a litigation associate at Ernest Brown & Company, Kelly focused on providing construction litigation support including bids for public work projects, contracts, dispute resolution, and litigation. Now, as a Paragon agent, she looks out for your best interests. First as a great listener, and then working with you to develop a strategic plan to achieve your goals. Knowing how complicated and detailed buying or selling a home can be, having someone with Kelly's abilities could make all the difference for you.

Call Kelly at 415-912-6589 or
email Kelly
Kelly's Site


*************************

Small Business Consulting and Accounting Systems

Mary Ann Wetzork - Consulting Controller
When you need Professional Financial Services between Bookkeeper and C.P.A. Everything from Financial Forensics, to Quickbooks implementation and training. Mary Ann is also a licensed affiliate of the One-Page Business Plan Company.

email Mary Ann
www.consultingcontrollerinc.com
phone: 510.522.4010
fax: 510.522.3724

*************************

Dr. Clue Treasure Hunts
Teambuilding Scavenger Hunts/Treasure Hunts for Team Communication

Dr. Clue's business-focused

teambuilding exercises use a fun treasure hunt model to explore substantive organizational issues. Challenging clues, tricky puzzles and teambuilding lessons transforming the activity into a sophisticated and challenging business simulation game -- on the streets of the world's most interesting neighborhoods.

Dave Blum

phone: 415.566.3905

fax: 415.358.5691

*************************

Alan Barsky - Hypnotherapy-Marin
Clinical Hypnotherapist, Certified Master Hypnotist

Alan listens to what your needs and wants are, so he can design sessions individually tailored to you. He gives you a recording of your sessions and many other tools for you to take home with you to continue to use. And he does it all in a relaxed, calm setting that allows you to reframe thoughts and scripts in your subconscious, where they hide.
.

email Alan
phone: 415.389.9444
web site




Rebecca Fettig - Acupuncture
Acupuncture, Herbal Medicine

With 15 years of experience in western and alternative medicine, Rebecca Fettig L.Ac. MS brings an integrative perspective on health and healing. Your individual needs are met with a customized treatment plan that allows your body to transform into an ultimate state of wellness. She uses Traditional Chinese medicine healing modalities: acupuncture, herbal therapy, tui na massage, nutrition, and qi gong. Her specialties include pain management and autoimmune conditions, such as rheumatoid arthritis, lupus, Hashimoto's thyroiditis - hypothyroiditism, multiple sclerosis, psoriasis, Crohn's disease, and others.

email Rebecca
phone: 415.641.1939
Golden Point web site

Joselle Gacusan - Personal Trainer


Joselle is a phenomenal Personal Trainer and a Certified Massage Therapist specializing in Deep Tissue, Sports, and Swedish Massage. On the Personal Training side, she obtained a B.S. in Exercise Science and Pre-Physical Therapy from Marymount University, where she was a member of both the women's lacrosse and soccer teams. As a lifelong athlete, she's learned to be self-motivated and knows what it takes to provide you the tools to optimize your health.

On the massage therapy side, she customizes each massage for the individual client's needs with a very holistic approach. What sets her apart from her competition is her 7 years of experience in the healthcare field including physical therapy offices, sports facilities, and personal training studios.

Joselle treats every client as if they were her best client and really listens to why they are seeking therapy to get to the root of the problem. As a result, her clients have intense loyalty and always come back to her.


email Joselle
phone: 415.590.0922
website

Kevin Minney - Pain Prevention and Bowenwork™
An amazingly effective system that helps the body to remember how to heal and recover.

An internationally acclaimed hands-on healing modality,
Bowenwork™ accelerates pain relief and recovery from injuries and illness. Feel better faster than you ever thought possible.

Kevin Minney

phone: 925.944.5515


Kevin offers Bowenwork™ sessions and is one of only nine U.S. Bowen instructors.

Dr. Anjannette Price, DC - San Francisco Upper Cervical Chiropractic

Dr. Anjannette Price provides a high level of quality service supporting individuals suffering from varying degrees of pain and discomfort, right in the heart of the Castro District in San Francisco. She is a graduate of Life Chiropractic College West where she dedicated her specialty to Upper Cervical Chiropractic work. Anjannette's passion is illustrated by her participation in annual international Chiropractic trips providing free care for communities in need (most recently in El Salvador as part of a team that helped more than 10,000 people.)

Upper Cervical specialized chiropractic focuses on the primary connection between your brain and the spine, nerves, and the rest of the body. This specialized form of care offers a medication-free, non-invasive approach to health allowing the body to heal naturally on its own.

This specialized chiropractic care helps you achieve optimal function and overall wellness, as a noninvasive, medication-free approach to healthcare. Upper Cervical Chiropractic allows the body to heal naturally on its own, and goes to the root cause of problems rather than symptoms, which can often be misleading.

http://SanFranciscoUpperCervical.com

phone: 415.823.9707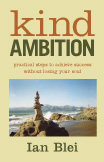 $15.95
FREE SHIPPING*
in Continental U.S.
_____________
*International please add $4.05
(average cost of shipping is $8.50 - so I'll split it with you)
Outside of Continental U.S. $20.00
"…Ian provided us with a new way to examine our production methods, enabling us to quantify the value of our time, and adjust our procedures to increase profitability across our entire product line, almost overnight!…"
--Dave Berman, VP Sales & Marketing, Jessicurl
"...Thanks so much for the Couples Session. It just nailed us to a tee, and we're doing great now! Understanding each others' different approach makes a huge difference.."
--D.B., San Francisco, CA
"…working with Ian saved my company thousands upon thousands of dollars in my time and through better decision making. His consulting has been invaluable to me."
---Shannon Seek, Principal - Seek Solutions and Author of The Organic Organizing Matrix
"...The skills you taught me have played a large role in my snowballing success."
--Doug Workmaster, Workmaster Photographic Studio
"…I thought it was going to be another one of those touchy-feely, no result processes. To my great surprise I left with practical communication tools, and I'm using them already.
I would recommend this process to anyone who needs to communicate better with the many different people in their lives - both work and personal…"
--Keith M., IBM, San Francisco, CA
"…We went from wondering if we could afford to even keep the doors open, to having one of the top producing locations in the country."
--Michele Lockey, District Manager - Copymat - CPI Corporation
"…Ian has the unique ability to see exactly what's going on in your business, assess what's working and what's not, immediately. Better still, he helps you implement the changes needed with ease and a sense of joy that makes the process effortless."
--David Nadel, Owner - Ashkenaz Music and Dance Cafe
"...we went from conflict and confusion to effective and in charge in just one workshop... Wow!
---C. H. E. - Portland, OR
"…Incredibly creative, yet pragmatic solutions came so easily, and in such a fun process, we did far more in 2 hours than what had taken weeks with other consultants."
-- Clifford Waldeck, Waldeck's Office Supplies
"…Within two sessions, they produced results paying for their services tenfold, with no downtime. It was a fun process, concentrating on maximizing the positives rather than focusing on negatives. It's costing you money not to work with Ian!"
-- William Holt, Director - the Meta Institute
"…Rather than simply revising processes, Mr. Blei has revolutionized them, resulting in benefits and savings that will continue well into the future…"
--Brian Thiele, VP -Bank of America
"…I first saw Mr. Blei speak when I was just about to start my business. His methods of building a successful business showed me that to be effective I didn't have to recreate the lackluster and inflexible workplaces I had left to start my own business. He inspired me to create the kind of business I envision, the kind of organic business I feel and know will be successful. Thank you!…"
--Janine Hunn, Principal Designer and Owner - Jixiki
"...Powerfully engaging and fun interactive learning...by far the most lucid and succinct presentation of these tools and systems I've experienced.."
--Sylvia Warren, Executive Coach - Simply the Best Coaching
"...Thank you very, very much for a really great presentation. I have never had such an accessible and credible introduction to the Enneagram. I had no idea that it was such a sophisticated tool for understanding human beings. I'm hooked..."
--Jeff Bell, Willow Bend
"...You offered the material in a way that makes it immediately accessible and very valuable as a tool...an elegant and eloquent job of communicating the peacemaking possibilities of the Enneagram to the group!"
--Barbara Wieland-Mark, PhD., Founder of Full Circle Institute and President of the International Association of Coaches
"…Ian provided us with a new way to examine our production methods, enabling us to quantify the value of our time, and adjust our procedures to increase profitability across our entire product line, almost overnight!…"
--Dave Berman, VP Sales & Marketing, Jessicurl
"...After just one session, my partner and I were able to move through conflict in a non-blaming and curious way, eager to explore how our innate differences worked in our relationship...As a psychotherapist, I would recommend this process to the couples I see for relationship therapy..."
--Shari Levine, Licensed Marriage and Family Therapist, Portland, OR
"…We went from wondering if we could afford to even keep the doors open, to having one of the top producing locations in the country."
--Michele Lockey, District Manager - Copymat - CPI Corporation
"Ian Blei shares his deep insights in simple and straightforward ways. His work continues to inspire me whenever I feel I'm getting stuck in some area of my life."
--Roy King, III, Founder and Director of the Social Enterprise Group
"If you are interested in success, whether it is in running a large organization, a small business, or leading a satisfying life, you will find a right blend of rules, wisdom and wit in a digestible fashion that will serve to accomplish your objectives. The notion that kindness can be blended with ambition and made to work and serve the "bottom line" is enlightening, uplifting and satisfying."
--Steven Kiefel, CEO, Red Pill Media
"You don't have to be a cutthroat competitor to rise to the top...Ian Blei shows you how to be nice and finish first."
--Rachel Moser, Editor, Women's Day Magazine