The IntegramTM Podcasts

on

Soundcloud,



March 2022

Willpower and Self-Discipline, part 1
(7:54)


February 2022

5 Rules for Exceptional Relationships
(7:06)


November 2021

9 Whys to the Truth
(TBA)


October 2021

Why the Bird Thinks the Fish is Crazy
(6:53)


September 2021

Jedi Training, The "Secret" and the Force
(10:43)


August 2021

July 2021

Break Free of Your Internal Restraints
(8:08)


March 2020

Communication Actions for Optimized Results
(7:27)

February 2020

Be the Eggshell or Be the Ball - (8:19)

January 2020
Reframing the Mountain (6:31)

Decemb

er 2019
The Treasure Trove Within - (6:40)

Novemb

er 2019
Just Don't Do It! - (7:09)

September 2019
Patience, Grasshopper - (6:30)

August

2019
5 Rules for Extraordinary Relationships - (7:06)

July 2019
Secret Multitasking - (5:45)

June 2019
Same World; Different Experience - (8:07)

March 2019
Why Do I Have To Go First? - (6:49)

February 2019
Walking a Mile In Someone Else's Shoes Can Get You Lost - (7:46)
Interviews:
BlogTalk Radio with Tony Wilkins
Tony interviews Ian about everything from Business Process Re-Engineering to Communications and Leadership. From @ 3:20 in to @ 20 minutes in to the show.
Raving Fan Radio with Melissa Risdon
Melissa and Ian have a great conversation about the Integram™ also known as the Integral Enneagram; his model of human consciousness which maps worldviews, perspectives, motivations, and cognitive linguistic styles. They cover from how we can use this system to understand ourselves, each other, and our relationships on a far deeper and richer level.
Health Mastery Systems Show with KG Stiles: Conversations to Enlighten & Heal
KG talks with Ian Blei, about everything from "Kind Ambition" to the Integram™ The Integram™ was featured at the 1st Integral Theory in Action Conference, and is being used by coaching organizations around the world. The Interview (@ 63 min.)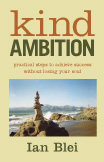 *********
"Ian Blei knows more about developing and maximizing personal effectiveness than anyone I know. He does it with brilliance and with heart."
-Barbara Mark, Ph.D. Founder of Full Circle Institute
Past President of the International Association of Coaches
and creator of Cut to the Chase.