We'd love to hear from you!

I'll do our best to respond within 48 hours (email or phone contact).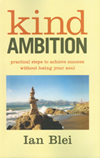 $15.95
FREE SHIPPING*
in Continental U.S.
_____________
*International please add $4.05
(average cost of shipping is $8.50 - so I'll split it with you)
Outside of Continental U.S. $20.00
"…Ian has the unique ability to see exactly what's going on in your business, assess what's working and what's not, immediately. Better still, he helps you implement the changes needed with ease and a sense of joy that makes the process effortless."
--David Nadel, Owner - Ashkenaz Music and Dance Cafe