Relax, there's no "test" involved. This is fun and potentially life-altering, so welcome! Applaud your sense of adventure and curiosity.
Part of our unique Integram™ (Integral Enneagram) uses Enneagram components to help establish the Perspectives or the Lenses through which we take in and organize stimuli.
Our assessment systems strive to avoid some of the pit-falls and extraneous information that can sidetrack, distract, or misdirect you from an accurate choice (and it's fast!)
For example, using labels or names for the Types (at the beginning) sets you up for pre-conceived judgments or unconscious triggers that can create misdirected assessments.
We've Simplified Things
Optimized Results has distilled an incredibly simple and straightforward method for getting to the core of real and accurate assessment. As being able to use this technology yourself is an important goal for us, the Conversational Style Assessment was developed.
This models how Ian Blei does assessments in regular conversations with people, (and you can too!) The technique uses the "Three Criteria Rule," (right-hand column) and requires you to really be in touch with your honest "self." The more you can reach in there, the more accurate reading you'll get. This is a really fast method, when you want it now. Picture being able to "read" anyone you want to work with or understand. It starts with knowing yourself on a deeper and more useful level than you've ever imagined.
Also, although some of the "pop culture" versions of the Enneagram tend to omit aspects of you that don't fit their model, our model integrates those aspects to fit you. This means the influence of both wing types is omnipresent and integral to who you are; including the internal conflicts that influence produces.
For example, an assertive, maybe even aggressive type of person will have a wing of non-assertiveness or non-aggressiveness preferring not to engage. The internal conflict that this produces is an important part of their personality.
That said, keeping the Three General Principles in the column to the right of this one in mind while doing your assessment, will help guide you down a more focused path; easier and with more accurate results.
"...we went from conflict and confusion to effective and in charge in just one session... Wow!
---Crae E. - Portland, OR
"…Very, very empowering..."
---Andrew.M. - Realtor - San Jose, CA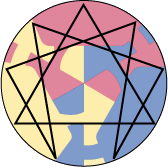 1. Sure you can relate to all of them.
We can reflect all Nine Types, but five of them are what I would call "indigenous" and the other four reflect learned survival strategies. One Type is your primary core lens, even if we can see ourselves thru several if not all of them.
If you threw a rubber ball into a box, it would likely bounce off of every wall, but it would hit one wall first. That would be your Primary Type. From there, we are an amalgam of those five indigenous types: your Primary (how you usually take in the world around you), your two adjacent Wings, (which have differing levels of influence) your lens in Stress (you know how you see the world differently when you are totally stressed out?) and your lens in Security (once again the world looks very different when you feel confident and secure). Obviously, your own blend is what makes you unique, and yet allows for deeply shared experience.
2. Age and Experience – Think of yourself as you were at age 25 or younger.
As we progress through our lives, we take on and learn coping strategies from those around us. We are sort of like a giant snowball rolling downhill picking up more and more snow, and yet that core in the very center (which is still you) hasn't changed. It can be hard to sort out what your own original strategies are unless you place yourself at the age before this process got under way. If you are 25 or younger this is a breeze, but for many of us it's kind of a stretch. This is the age that most people really take their original coping strategies "on the road," and the "cross-contamination" that can confuse the assessment usually begins.
3. Motivation not Behavior – Don't focus on what you do. Focus on why you do it.
The real magic of the Enneagram is how it addresses who you are on a much deeper level than defining yourself by what you do. You and I could do the exact same thing for completely different reasons, thus the behavior itself doesn't tell us nearly as much.
One more time: what you do doesn't matter. What matters is why would you do that? What motivates you? What feelings or thoughts you might stuff down in order to do "whatever" is what really counts.
Ready to Assess YOUR Type?

$15.95
FREE SHIPPING*
in Continental U.S.
_____________
*International please add $4.05
(average cost of shipping is $8.50 - so I'll split it with you)
Outside of Continental U.S. $20.00