only $125.00!!
Put this month's Secret Word: "Epictetus" in the subject line of your email, along with your contact info, and we'll schedule your session right away!
---
---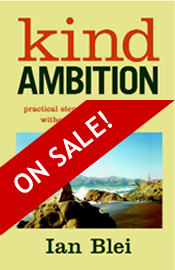 "Kind Ambition:
Practical Steps to Achieve Success
Without Losing Your Soul"
Regularly $15.95 plus shipping
Now only $10 and I pay shipping
or....
GO FOR THE
SUPERSIZE SPECIAL!!!
BUY 10 COPIES AND GET 2 MORE FREE!!!
(Yup, that's 12 for the price of 10)
a FULL DOZEN BOOKS
FOR $8.33 EACH!!!

"…A multi-million dollar deal was falling apart before my eyes. I started using Ian's communication tools and turned it around to close my biggest deal yet…"
--Jeff A.,
Independent Agent
Alameda, CA
"I can't say enough about how beneficial it was for me working with Ian. Ian gave me the guidance and mentor-ship that I needed to really grow and advance within my company. Long story short I was promoted twice quite quickly after working with Ian and have the tools needed to grow and manage my ever expanding team. I highly recommend Ian to anyone looking for personal and professional growth!"
--Daniel Duffy: Regional Sales Director, West-USA
Subscribe
to
"The Integram"