The Integram: an Integral Enneagram of Consciousness; a model of consciousness, including all aspects, for designing practical paths of personal development and evolution.
Quick Links: jump to any section
No time? Listen to the podcast (8:35 min.) in the background while you file, exercise, ride to work, etc.
Listen on Soundcloud
Simplification for "Non-Dummies"
(click for podcast)

To Just Reduce May Prove Obtuse
As our lives get increasingly busier and more complicated, simplification has become more important. We feel the anxiety of time pressures and accomplishment pressures, and constantly look for ways to reduce our workloads. Ironically, there's an element of this drive to simplify that actually makes things worse. The problem is called diminishing returns, and we find ourselves chasing those more and more.

Simplification itself isn't a problem, but how we strive for this simplification, and how we achieve it can derail our true goals. First of all, we rarely have a specific plan with guidelines and criteria for what, how, and where we're going to simplify. It's usually in reaction to a sense of overload, so we simplify in a reactive way. When we do things in reaction, we're not thinking them through, and our decisions are usually not very good. We're trying to stop something we think/feel has gone too far. We just act, and either put ourselves in deeper water, or put ourselves in a position we'll have to dig ourselves out of later.

I'm not arguing against all simplification; indeed there are effective ways to approach it. Unfortunately, the most common method, is one of the least effective in the long run. It's called reductionism. Reductionism tries to simplify by removing what's perceived as inessential. The problem is that perception can be quite inaccurate, and garbage-in gives you garbage-out. Furthermore, it's rare to go back and look for what was removed, to add it back in to the equation, and then start over. That flies in the face of speeding things up; the goal of simplifying in the first place.

To simplify a recipe, we can't just leave out a bunch of ingredients, but we may be able to simplify the processes by combining steps. We're reducing the workload, but not the core ingredients. In conveying ideas, simplification often uses this reductionist style, and we lose key points that may have been extremely relevant. Thus we end up with less than accurate information and not so great results.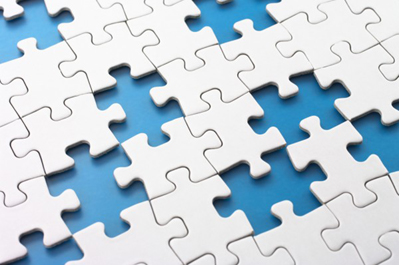 When Descartes applied reductionism to scientific thought in 1637, he was coming from a very mechanistic viewpoint. To describe a tree by its internal mechanisms (dissecting the leaves and bark) misses out on the tree's relationship to its ecosystem, (context) and certainly its aesthetic majesty. Reductionism loses that same level of juice in our communication and relationships.


Baby Birds and Richard Nixon
Another common method of reducing our workload is pre-digestion. By having someone else go through the information first, digest it, and then pass on what they think or feel is important, you get less to go through, but it will get changed in flavor, color, and content. This works great for feeding baby birds, but isolated Richard Nixon from what was going on around him, as it endangers anyone in a decision-making role. It goes back to the garbage in, garbage out rule. In an environment where people feel they can only give you "good news," or tell you what you want to hear, you're in big trouble.

Pre-digestion can work, as long as we're sure that whoever receives the information first is giving accurate and unbiased accounts. For example, we're left trusting the media on a regular basis to tell us what's going on, and you see how inaccurate, incomplete, and oversimplified those stories are. (Elections aren't merely competitions, where the only story is who's winning.) We might want more background information to make an intelligent decision. Incomplete, inaccurate, or biased information is a pitfall of using predigested information for simplification.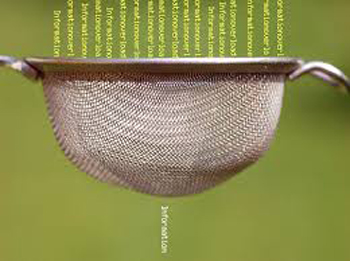 Distilled Fundamentals
The objective of distillation is to separate the substance (relevant information) from the solvent it's floating in (the sea of information). Once again, we're at the mercy of what's perceived as substance. However, this is where we can implement a plan for how we're going to simplify without losing important aspects of our interactions and communication.

In a very general way, everything in the Universe is connected and relevant. That won't help us simplify. We need to establish what area we're concentrating on, and how wide a net we're willing to cast for this particular situation. How deep can we afford to go? Where are we going to simplify and where are we going to expand? When we address a situation with a simplification plan in effect, we get Optimized Results [couldn't resist].




A simplified system using reductionism classified a client of mine as a "driver," at his office. The label didn't say anything other than how people perceived his behavior, and it put him in a box for people to avoid. We chose instead to look at why he felt the need to "drive," which is an example of distilling down to fundamentals.

Someone's behavior at work is only relevant when it's hurting their performance or the team, and giving it a label didn't help anything. We need to ask some questions. What makes them act this way? Can they see getting the job done another way? Would they like to try? When we distill down to the fundamentals of how person A can best do job B, we simplify without reducing the problem to non-useful labels.

Furthermore, when we looked at why he was behaving as a "driver," we uncovered more relevant issues of trust and anxiety, that once addressed and solved, transformed his behavior entirely and permanently.

Wouldn't shifting an ongoing or chronic series of problems with a single solution be a positive and powerful way to simplify? This is where Re-Engineering really helps coaching. You won't waste time clipping dandelions when we can take out a single root. Simplification only works when it maintains substance.

Want to learn more about how to become the best you possible? Come visit the web site, or better yet, contact me and see how we can design a program to fit your needs and desired outcomes.

- Ian J. Blei

****************

Quick Communication Tip

Meta-Model the Situation
Meta-Modeling is described in Neuro-Linguistic Programming (NLP) and used by successful negotiators as long as we've been bargaining over sea shells. To simplify how to implement it without reduction, let's start with a simple premise. Meta-Modeling shifts your perspective like going up in a balloon, getting a more complete picture. In communication, it's very much like factoring; finding common denominators in people.

When we're very young, we're very centered on "I, Me, and Mine," and issues revolve around that worldview. As our consciousness evolves, we start to take on the worldview of "We and Us." As you move further up in the hierarchy of criteria, it becomes more about us and less about me as well.

This is the high road in negotiation (and what isn't negotiation?) What is best for us will always be more reasonable than what is best for me. Shift your perspective up to where you see a larger, more inclusive picture, and present that. When you're both on the same side of the net, there's no adversarial communication.

Want to learn more about how your communication can hold you back or catapult you forward? Come visit the web site, or better yet, contact me and see how we can design a program to fit your needs and desired outcomes.

****************

Special Offers! - Holiday Goodies!!



Thousands of dollars worth of SPECIALS
thru the end of December! [CLICK HERE]


"I felt overwhelmed and was beginning to doubt myself and my success. Ian helped me harness what I had within to do what was needed. He's extremely insightful and effective, and in no time I found myself focused, organized, and best of all relaxed and stress-free." - T.U. - attorney, San Francisco Click to Schedule.
Resource Links:

The Integram Archive - the podcast series

Melissa Risdon's Raving Fan Radio Show:
Ian Blei on the Integram (TM) -understanding ourselves, each other, and our relationships

KG Stiles: "Conversations that Enlighten and Heal"
Ian Blei on Kind Ambition and the Integram (TM)

Kind Ambition - 2nd Edition

Got Blog? come visit the Blog.



****************
Welcome to the Integram, where consciousness meets intentional design. Enjoy!



The Optimizer
Ian Blei,
Director of the
Institute for Integral Enneagram Studies and
President of
Optimized Results
415.826.0478

Kind Ambition
Click HERE

Kind Ambition:
Practical Steps
to Achieve Success
Without Losing Your Soul

Kind Ambition
Fan Page
now on
FACEBOOK
Kind Ambition is about you having the tools to slide over to the driver's seat of your own life. Circumstances will always be changing, seemingly thwarting our plans, but we don't have to be thrown around by them. You can be in charge of your choices and actions more than you might imagine - yet.
Kind Ambition is written for you, as a practical guide you can use right now. It is a collection of insights and actions designed to help you move forward and get more out of your life at home and at work. The chapters hold to a formula of first giving you a new way to look at things, then offering you tangible Action Steps to try them out, and finally some things to notice when you do.
Kind words for "Kind Ambition"
"If you are interested in success, whether it is in running a large organization, a small business, or leading a satisfying life, you will find a right blend of rules, wisdom and wit in a digestible fashion that will serve to accomplish your objectives. The notion that kindness can be blended with ambition and made to work and serve the "bottom line" is enlightening, uplifting and satisfying."
-Steven Kiefel – CEO, Red Pill Media
"An easy to use guide for anyone who wants to achieve real growth and success. His sensible and practical tactics solve age-old challenges with real, how-to solutions. Best of all, Ian lives his work!"
-Romanus Wolter - Author: Kick Start Your Dream Business
Success Coach Columnist: Entrepreneur Magazine
Radio Host: Syndicated Kick Start Guy Segment
" We all face obstacles in our lives and careers. Some of these come from within, subverting our conscious intentions. The good news is: they can be overcome. The techniques and processes found in this book will help you on your way."
-Margaret Heffernan – Author: The Naked Truth: A Working Woman's
Manifesto on Business and What Really Matters
Syndicated Columnist: Fast Company Magazine
"A scientifically-based, spiritually-awake, (and smart and funny) guide to making the most of your life. Ian Blei provides the know-how, the inspiration, the structure and all the tools you need in this straightforward and inspirational book."
-Lisa Betts-LaCroix, Past President of SF Coaches
Star of Unapix film, "Dance Me Outside"
" Ian Blei shares his deep insights in simple and straightforward ways. His work continues to inspire me whenever I feel I'm getting stuck in some area of my life."
-Roy King, III , Director Pacific Development Partners