Conscious Communication: bringing communication up from "auto-pilot" and reactive, to thoughtful, responsive, and above all, intentional.
Remember Before You React
This is covered in Chapter 26 of "Kind Ambition," (in much more depth) however part of this idea is directly related to tone; covered in last month's issue. When we speak without thinking, our words and tone fly like debris from a lawn mower. The odds of actually communicating what you meant to communicate are almost random, and there's bound to be dangerous, possibly painful shrapnel involved.

As Viktor Frankl said long ago, taking a second to pause, open options for us. Choose your words carefully, and of utmost importance, remember the real person you're talking to. Choose your tone accordingly, and watch how wonderfully this enhances your interactions.

This little bit of Mindfulness enables you to communicate more effectively, without all the reactions that take over; and take everyone off track.

If I'm doing my taxes, frustrated and maybe annoyed, and you call me on the phone, I can either mindlessly grab the phone and answer with all the annoyance and frustration in my voice, or take a second to compose myself before I open the interaction with you. If I take a moment, and think of who you are, and how you had nothing to do with why I'm so frustrated, I'm not going to "unload" on you. It's a conscious choice.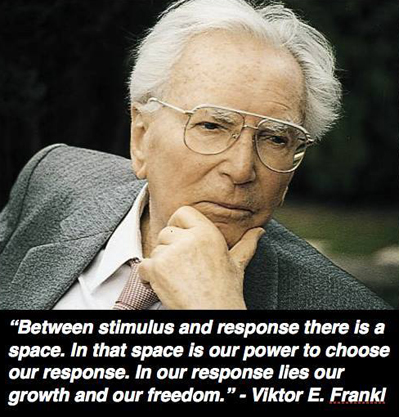 If you want to reach higher altitudes; catapulting your communication and relationship skills, give me a call or email me. We can design a tailored program to fit your needs and desired outcomes. There's no limit to how high you can fly.


- Ian J. Blei

****************

Special Offer -

Spring Has Sprung


Let's celebrate the Crocuses blooming and the days getting longer! Spring is almost here, and the only gardening I'm seeing right now is trimming Dynamic Discovery Sessions and Laser Coaching Single Sessions in half!


Wanna know what it's all about?

Click Here!!!

Call, email or check out the website; always something cool going on.



Ian gave me the guidance and mentor-ship that I needed to really grow and advance within my company. Long story short I was promoted twice quite quickly after working with Ian and have the tools needed to grow and manage my ever expanding team. I highly recommend Ian to anyone looking for personal and professional growth!


- D.D: Regional Sales Director, West-USA


"If you're looking for the best you but having trouble finding him/her, have a conversation with Ian and you'll see a light of possibilities." - Dr. A.P., San Francisco, CA


****************

Quick Communication Tip:
Smiley Faces

Here's something you can do right now that always has a positive affect on both you and whoever you're interacting with: smile. I'm not saying "grin like a fool." Just smile. Merely smiling (even on the inside) has a powerful impact on your physiological state and biochemistry. It's very difficult to be cranky when you're smiling; your body won't let you.

Likewise, when you're on the phone with someone, they can tell if you're smiling or not. Your tone gives you away, and the conversation can take a more positive path.

Try yelling at yourself in the mirror while you're smiling. You'll crack yourself up. Following that, notice your feeling/thinking/being state. Your mood will be elevated, regardless of how you were feeling before. This is just one tiny way you can consciously shift your biochemistry and subsequent mood.

The best part is it's contagious, rather like a yawn (perhaps just one more place where Mirror Neurons in the brain have their impact.) Remembering that we can shift our mood and the mood of those around us, merely by smiling and being conscious of our tone gives us more power and control of our interactions than we might have believed. So have some fun with this, and see how you can make things a little more positive for yourself, and those around you.

Sincerely,

Ian J. Blei



****************


Resource Links:




Conscious Communication - the podcast series

KG Stiles: "Conversations that Enlighten and Heal"
Ian Blei on Kind Ambition and the Integram (TM)

Kind Ambition

-

2nd Edition

Got Blog? c

ome visit the Blog

.


****************
Welcome to the Conscious Communication Chronicle, sharing how Conscious Communication results in success, and how you can achieve yours. Enjoy!



The Optimizer
Ian Blei,
Director of the
Institute for Integral Enneagram Studies and
President of
Optimized Results
415.826.0478

Kind Ambition
Click HERE

Kind Ambition:
Practical Steps
to Achieve Success
Without Losing Your Soul

Kind Ambition
Fan Page on
FACEBOOK
Kind Ambition is about you having the tools to slide over to the driver's seat of your own life. Circumstances will always be changing, seemingly thwarting our plans, but we don't have to be thrown around by them. You can be in charge of your choices and actions more than you might imagine - yet.
Kind Ambition is written for you, as a practical guide you can use right now. It is a collection of insights and actions designed to help you move forward and get more out of your life at home and at work. The chapters hold to a formula of first giving you a new way to look at things, then offering you tangible Action Steps to try them out, and finally some things to notice when you do.
Kind words for "Kind Ambition"
"If you are interested in success, whether it is in running a large organization, a small business, or leading a satisfying life, you will find a right blend of rules, wisdom and wit in a digestible fashion that will serve to accomplish your objectives. The notion that kindness can be blended with ambition and made to work and serve the "bottom line" is enlightening, uplifting and satisfying."
-Steven Kiefel – CEO, Red Pill Media
"An easy to use guide for anyone who wants to achieve real growth and success. His sensible and practical tactics solve age-old challenges with real, how-to solutions. Best of all, Ian lives his work!"
-Romanus Wolter - Author: Kick Start Your Dream Business
Success Coach Columnist: Entrepreneur Magazine
Radio Host: Syndicated Kick Start Guy Segment
" We all face obstacles in our lives and careers. Some of these come from within, subverting our conscious intentions. The good news is: they can be overcome. The techniques and processes found in this book will help you on your way."
-Margaret Heffernan – Author: The Naked Truth: A Working Woman's
Manifesto on Business and What Really Matters
Syndicated Columnist: Fast Company Magazine
"A scientifically-based, spiritually-awake, (and smart and funny) guide to making the most of your life. Ian Blei provides the know-how, the inspiration, the structure and all the tools you need in this straightforward and inspirational book."
-Lisa Betts-LaCroix, Past President of SF Coaches
Star of Unapix film, "Dance Me Outside"
" Ian Blei shares his deep insights in simple and straightforward ways. His work continues to inspire me whenever I feel I'm getting stuck in some area of my life."
-Roy King, III , Director Pacific Development Partners