The Integram: an Integral Enneagram of Consciousness; a model of consciousness, including all aspects, for designing practical paths of personal development and evolution.
No time? Listen to the podcast (7:46 min.) in the background while you file, exercise, ride to work, etc.
Why Do I Have To Go First?
(click for podcast on Soundcloud)

Throughout my consulting and coaching practice, I've put the onus on my clients to strive for understanding others, have compassion for others, and to see the world through other's eyes. Recently, someone asked some questions that raised an interesting point:

"Why should I take the first step, or make the first move? Why do I have to understand their way of seeing things? Why can't they try to understand me the way I say things? Why can't they just see it my way?"

There are many ways to look at this, but one thing you can count on is that you could wait a long time for the other person to make the first move, and it may not happen.

The ritual of holding out one's empty "weapon hand," which is how the handshake originated, has become so unconscious that we've forgotten how "going first" has always been our way of initiating interaction.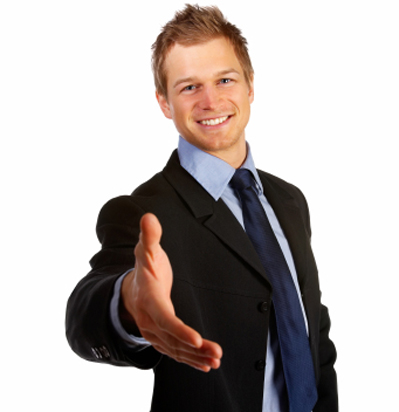 My dad who's a biochemist, shared a natural way of looking at this that transcends social niceties or rules of behavior. There's a simple reality in physics, described by the Second Law of Thermodynamics: energy flows from a warm body to a cold body. This is how the energy transfer begins the process of achieving equilibrium. Physics describes the Universe around us so elegantly; why argue with nature?

By initiating interaction with a genuine desire to understand the other person, you become a warm body. This allows the other person to warm up to you, and the flow is reciprocated. Eventually, the flow back and forth reaches something like physical equilibrium, and the relationship moves forward.


Make the First Move -
'Tis Better to Give than to Receive
Extend the hand (or ear) and you're offering a gift: the gift of your attention. This gets the ball rolling, as you've removed the obstacle of fear from the other person. They're no longer in a position of "hoping" (with a bit of anxiety) that you'll listen to them, or at least not make them feel dismissed. You've given them a sense of safety about opening up to you, and you get the reward of what comes from that open exchange.


Don't Do a Sales Song and Dance -
Interaction is a Two-Way Street
When someone monopolizes the conversation and you can't get a word in edgewise, it can feel as if there's no point in even being there. You certainly don't want that to be someone else's experience of you. There are usually two reasons we fall into this pattern or habit of "verbal streaming."

First, there's the common developmental issue of narcissism or self-absorption. This turns every interaction into a one-way street (and usually a very short one at that!) You may have heard the joke about the narcissist going on and on about himself, until he realizes it and says, "Enough about me, let's talk about you. What do you think of my outfit?" Stay conscious of your intent: interaction – back and forth exchange. Keep the horse in front of the cart.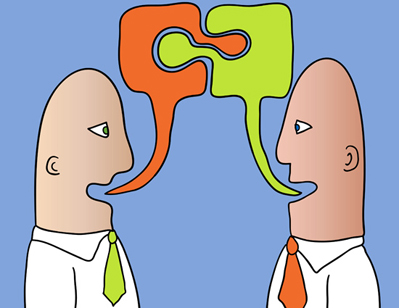 The second reason we fall into that pattern is good old fear or anxiety. At the root of this is a belief or feeling of scarcity; there's not enough time, I've only got this one chance, what if I don't get my point across, or they don't like me? Ironically, when you make the room for them to go first, none of that will drive the interaction or be what it hinges on. When you foster two-way interaction, you remove those obstacles, because now the other person will want to have more interaction with you, so you've eliminated scarcity.


The Last Step - A Leap of Faith
There's one last piece of anxiety to address, and that would be over your leap of faith that this process actually works. Go ahead and put yourself in the position of the other person you want to interact with. If it were you, how would you respond to someone actively listening to you, being fully engaged, and not interrupting you? You'd probably relax, enjoy yourself, and remember what a good time you had with this person. You'd want more. You'd feel comfortable that they really hear you, and that you'd be able to work with them. Isn't that exactly what you want others to think of you? There's an old expression about why we have two ears and only one mouth. Really listening gets the flow of energy and interaction moving, that will lead you to greater success.


Want to learn more about how to become the best you possible? Come visit the web site, or better yet, contact me and see how we can design a program to fit your needs and desired outcomes.

- Ian J. Blei


****************

March Madness

March may bring my birthday, but I'm giving presents. It's been a while, but this month I'm slashing fees for the Dynamic Discovery Sessions to the first 3 people (who haven't already worked with me) who email me this month's secret word found on the web site. Let's schedule your session!

"Ian Blei is exceptionally talented at helping people get the utmost out of life. He has an incredible ability to quickly discover key patterns and issues that can either drive or inhibit breakthroughs. Ian is the ultimate bundle of experience, skill, smarts, passion and professionalism." - M.M., - m biz dev

Ian gave me the guidance and mentor-ship that I needed to really grow and advance within my company. Long story short I was promoted twice quite quickly after working with Ian and have the tools needed to grow and manage my ever expanding team. I highly recommend Ian to anyone looking for personal and professional growth!
- D.D: Regional Sales Director, West-USA

"If you're looking for the best you but having trouble finding him/her, have a conversation with Ian and you'll see a light of possibilities." - Dr. A.P., San Francisco, CA

Resource Links:

Conscious Communication - the podcast series

Melissa Risdon's Raving Fan Radio Show:
Ian Blei on the Integram (TM) -understanding ourselves, each other, and our relationships

KG Stiles: "Conversations that Enlighten and Heal"
Ian Blei on Kind Ambition and the Integram (TM)

Kind Ambition - 2nd Edition

****************
Welcome to the Integram, where consciousness meets intentional design. Enjoy!



The Optimizer
Ian Blei,
Director of the
Institute for Integral Enneagram Studies and
President of
Optimized Results
415.826.0478

Kind Ambition
Click HERE

Kind Ambition:
Practical Steps
to Achieve Success
Without Losing Your Soul

Kind Ambition
Fan Page
now on
FACEBOOK
Kind Ambition is about you having the tools to slide over to the driver's seat of your own life. Circumstances will always be changing, seemingly thwarting our plans, but we don't have to be thrown around by them. You can be in charge of your choices and actions more than you might imagine - yet.
Kind Ambition is written for you, as a practical guide you can use right now. It is a collection of insights and actions designed to help you move forward and get more out of your life at home and at work. The chapters hold to a formula of first giving you a new way to look at things, then offering you tangible Action Steps to try them out, and finally some things to notice when you do.
Kind words for "Kind Ambition"
"If you are interested in success, whether it is in running a large organization, a small business, or leading a satisfying life, you will find a right blend of rules, wisdom and wit in a digestible fashion that will serve to accomplish your objectives. The notion that kindness can be blended with ambition and made to work and serve the "bottom line" is enlightening, uplifting and satisfying."
-Steven Kiefel – CEO, Red Pill Media
"An easy to use guide for anyone who wants to achieve real growth and success. His sensible and practical tactics solve age-old challenges with real, how-to solutions. Best of all, Ian lives his work!"
-Romanus Wolter - Author: Kick Start Your Dream Business
Success Coach Columnist: Entrepreneur Magazine
Radio Host: Syndicated Kick Start Guy Segment
" We all face obstacles in our lives and careers. Some of these come from within, subverting our conscious intentions. The good news is: they can be overcome. The techniques and processes found in this book will help you on your way."
-Margaret Heffernan – Author: The Naked Truth: A Working Woman's
Manifesto on Business and What Really Matters
Syndicated Columnist: Fast Company Magazine
"A scientifically-based, spiritually-awake, (and smart and funny) guide to making the most of your life. Ian Blei provides the know-how, the inspiration, the structure and all the tools you need in this straightforward and inspirational book."
-Lisa Betts-LaCroix, Past President of SF Coaches
Star of Unapix film, "Dance Me Outside"
" Ian Blei shares his deep insights in simple and straightforward ways. His work continues to inspire me whenever I feel I'm getting stuck in some area of my life."
-Roy King, III , Director Pacific Development Partners