Conscious Communication: bringing communication up from "auto-pilot" and reactive, to thoughtful, responsive, and above all, intentional.
To thank everyone, and offer extra value at the Eleventh Hour, this issue is packed. Three articles, covering both personal and business ideas, transferable Gift Certificates that you can give to others, and a sale on "Kind Ambition," all make this a true Holiday Gala Issue. Thanks again for a great 2007!
****************
Choosing a Coach (what's with all these different kinds?)
podcast of "Coaches" article
The Kings of Co-opetition (How one company became a champion-maker)
10 Minutes per Day (Shift your paradigm)
****************
Choosing a Coach (what's with all these different kinds?)
The statistics are in, and there's no debate anymore; top producers and performers in every field use coaches. The question has moved from "should I work with a coach?" to "what kind of coach should I work with?" This is a great question, and has as much to do with your own work and processing style as anything else.
First of all, let's simplify and clarify our terms. There are four main flavors of coach out in the world: the Expert/Consultant, the Cheerleader/Supporter, the Parent/Babysitter, and the "Evoker." Different people are looking for different experiences, and being honest with yourself about this can save you time and money. These labels may be somewhat self-descriptive, but to ensure accuracy, let's flesh them out a bit.
Expert/Consultant
The Expert/Consultant type coach is someone who has worked in your field for some time, has proven proficiency and success, and can give you advice regarding the specifics of the work that you are doing. Buffini & Company in the Real Estate world would be a good example of this type of coaching. Interestingly enough, most "Life Coaches" fall into the "Expert" category, and establishing the criteria for their expertise in Life is pretty subjective. The decision will probably come down to "getting along well" and "having a good feeling" about them.
Cheerleader/Supporter
The Cheerleader/Supporter type coach is pretty much what it sounds like. Keeping you positive, keeping you focused, and keeping your chin up when things go wrong, are all in the realm of this type of coach. If you have great organization and resources, but get tripped up by self-doubt, a Cheerleader/Supporter type coach can be very helpful.
Parent/Babysitter
The Parent/Babysitter type coach may be one of the more common styles we see. The approach begins with a given perspective, usually the Enneagram Three view of life, which entails a linear view, stepwise progression, goals and goal-setting, measurable milestones, achievements, and competition to be "better." If the client is also an Enneagram Three, this approach makes perfect sense and fits their processing style. If not, they must try to mold themselves to this style, and hold to it. The Coach is then in a position of "Enforcer," holding the client accountable to the goals and timetables that have been set. Sometimes just being able to make and keep agreements is a benefit of the work that is accomplished here.
Evoker
The "Evoker" style coach evokes excellence from the client; however that might show itself. This is most common in sports coaches, and is the most varied in approach as well. This type of coach must read the client's strengths and weaknesses, understand their desired outcomes, and create an evolving program that matches these aspects in a way that will help the client to achieve those desired outcomes. To evoke excellence in this way requires the coach to work with the client to essentially "re-wire" their internal programming, and their physical actions in congruence with a meta plan agreed upon in the beginning of the work.
The actual science behind this is in creating new specific neural pathways. You already have neural pathways that are like the trampled down underbrush of a well-worn path you've traveled your whole life. When you always think in a certain "chain of events," the same neurons fire in the same area of your brain, and eventually it takes very little stimulus for that neural exchange to take place. This is what becomes a "habit." This is also what becomes "auto-pilot" behavior, and the kind of thing you realize later that you did, and get mad at yourself.
To change this, you need to create a new pathway, and then spend some time trampling down the same amount of underbrush, so the new path becomes just as easy for the neurons to travel on as the old path. This is the gist of the Evoker Type "Coaching Practices" in a nutshell. It is a form of re-training your mind and your feelings, and your body, to respond in a different manner than they have in the past. When you do exercises that stretch sleeping muscles, (including your brain muscles) those muscles are not only awakened at that time, but they tend to stay awake and contribute on a more regular basis. For you musicians out there; this is like practicing scales. Over time, your fingers become far more adept and agile.
When victims of stroke or brain injury lose a portion of their brain, they can re-train another portion of their brain to take over those functions. With the right training and exercises we can certainly re-train our own brains to react differently to a stimulus that usually makes us "jump thru hoops."
Bottom Line
Each type of coach will create a different environment for the client to work within, and it is entirely dependent on the client, their desired outcome, and their processing style, as to which type to choose. Optimized Results works with the evoker approach, blended with a proprietary system called the Core Perspective Integration, which identifies your internal drivers, and re-wires neural pathways engaging the higher consciousness faculties of each perspective (rather than habitual compulsive responses.) It sounds way more complicated in this abbreviated description, so please contact me if you'd like to learn more about this process. The bottom line is simply that it doesn't "change" you; so much as it works the way Michelangelo described his style: chipping away all the extra marble that obstructs the ideal You from being visible.
****************
A while back, we looked at some great lessons to be learned from auto racing in the two-part "The Racer's Edge," and now at the close of the 2007 season, we have conclusive proof of those lessons. The two drivers in my article ended up #1 and #2, as the 2007 Champion and Runner-Up in a field of 43 drivers. Their organization, Hendrick Motorsports, had 3 of its 4 drivers in the top 4 of that field of drivers, and racked up winnings over $80 million, literally three times their nearest competition.
And competition is where Hendrick Motorsports re-wrote the book.
The organization's philosophy and culture is unique, brilliant, courageous, and very evolved. It enabled this company to create a duplicatable, repeatable process that creates champions: "Coopetition." Rather than pitting each driver and team within the organization against each other, Hendrick pulled out the physical and cultural walls, letting everyone know that they were one team/one family with four drivers, and that everything was to be shared. Everyone's notes would go into a shared database, the drivers and crews would meet and brainstorm together, they'd work on each other's cars, and share everything.
The patterns resulting from Rick Hendrick's philosophy are beyond coincidence, and anyone who wants to see how to take their organization to the top of their field, needs to take note.
Just as Dale Earnhardt Sr. had recommended a young Jeff Gordon to Rick Hendrick, Gordon recommended Jimmie Johnson five years later, after meeting him and watching him race. Hendrick wanted Gordon to have the same kind of "vested" interest in Johnson that he had in Gordon, so he agreed to sign him if Jeff split the cost. Gordon agreed and became Johnson's mentor and car owner, and of course shared his knowledge freely.
The parallels between these two is almost weird, and they became very close friends, as well as competitors and teammates. Both Jeff Gordon and Jimmie Johnson began racing at the age of five, both had exceptional support from their families, Jimmie's dad and Jeff's step-dad became their managers and motor-coach drivers, and the parallels continued through their careers. Jimmie and Jeff also buck the "Southern Good Ol' Boy" image of the NASCAR driver; being young, articulate, college graduates from California.
In comparing the careers of these two, keep in mind that there are 41 other top rated professional drivers competing against them. Jeff Gordon ranks first among all active drivers with an average of 5.6 wins per season. Jimmie Johnson ranks second among all active drivers with an average of 4.5 wins a season.
In 1998, Gordon had one of the best seasons in NASCAR history. He also won 4 races in a row, which hadn't been done since the '70's, and went on to win a back-to-back championship (1997 and 1998 NASCAR Champion).
On November 11, 2007 Jimmie Johnson became the first driver since 1998 (Jeff Gordon) to win four straight races, and he too went on to win a back-to-back championship (2007 NASCAR Champion).
In 2004, Johnson became the first driver since Jeff Gordon to win two legs of NASCAR's Grand Slam in a single season.
In 2005, Johnson had four straight wins at Lowe's Motor Speedway, and became only the second driver to win three consecutive races in one of NASCAR's majors. Who was the other driver? Jeff Gordon of course, who won four consecutive Southern 500 titles from 1995-1998.
Jeff Gordon won the Daytona 500 in 2005, and Johnson won it in 2006, giving Hendrick Motorsports two consecutive wins in NASCAR's equivalent of the Super Bowl.
In 2006, Johnson won the Allstate 400 at the Brickyard at Indianapolis, joining Jeff Gordon and Dale Earnhardt Sr. as the only drivers to have won the Career Grand Slam and the Allstate 400.
On October 21, 2007, Johnson won the Subway 500 at Martinsville for his seventh win of the season, breaking a tie with then-points leader Jeff Gordon for most wins on the season.
Johnson is also the first driver to win ten times in a season since Gordon, who did it three consecutive years (the last being a record-tying 13 win season in 1998).
Hendrick Motorsports teammates Johnson and Gordon finished the 2007 Chase for the Nextel Cup 1st and 2nd in the standings, well ahead of the rest of the field. Furthermore, Gordon accrued 30 top-ten finishes in one season, setting a new modern era Cup Series record.
Does Coopetition work? Besides enabling Hendrick Motorsports to dominate their field (again, more than tripling their nearest competitor in income) it facilitated both drivers racking up the most astounding statistics in modern motor sports, and the Hendrick organization has become a Champion Factory at the top of their field.
****************
This is a synthesized blend of several exercises, each of which has validity on its own, yet work more effectively in conjunction with one another. When they are done together as a "meta-exercise" they support each other and give each other more context, structure, and grounding.
The short time limits are designed to remove any sense of not having enough time to do the exercise, or dreading opening a can of worms, or any of the justifications we can come up with for not doing the exercise. We often look at a task as being far more overwhelming than it is, merely by exaggerating how much time we think we'll need. (This is very common with regard to exercise, where we create the belief that we need hours and hours per week, thus end up doing none. Yet we all know that 10 minutes of exercise every single day is far better than none at all).
It may take up to a week for you to notice the difference in your day and your perspective and mood, but you will notice the difference, and you will be pleased.
Section One - One Minute - Attunement:
However this shows up for you; ask for the light, meditate, contemplate, and attune yourself to the highest good. This is solidifying your image of the Ideal, and aligning your intention with that Ideal. On this page you may want to remind yourself of your definition of wealth. As an example of where to start, I'll give you one of my own definitions, and you can adapt or extrapolate to develop your own. To me, wealth is health, happiness, abundance, prosperity, loving, caring, sharing, learning, knowing what I want, opportunity, enjoying, and balance.
Section Two - Two Minutes - Abundance Affirmation:
Use this time to review whatever affirmations you can use to enhance your sense of abundance. Rather than "I wish I had opportunities," remember that they are out there whether or not you've figured out how to grab them, and just write down "I have opportunities." The only one who will give you a hard time about this is "the internal judge," and we know the judge isn't focused on your best interests, just maintaining it's own power. Tell the judge to be quiet, wait his/her turn, because you just don't need them right now.
Section Three - One Minute - Long-Term Goals:
Review and visualize the success of your big dream. Usually projected 3 to 5 years. Some may be as close as one year. Use this minute to see, feel, hear, smell, and taste the joy of living that dream. Take this future projection to all of your senses, and fully experience it.
Section Four - Two Minutes - Short-Term Goals:
Some of us are more driven by goals than others. A complete absence of goals is as extreme as living only for goals. In the middle is an area where you can set reasonable goals that will give you the opportunity to experience small victories. Review the goals you've set to achieve within the next days, weeks, and months. When a goal is achieved, cross it off the list, but do it in such away as to be able to go back and review all that you've accomplished. Feel free of course to add new goals at any time.
Section Five - Two Minutes - Appreciation and Gratitude:
Give yourself the space to feel appreciation and gratitude for what you already have. This section has become one of the most enlightening to me. To re-focus my attention on what I have instead of what I lack, shifts my perspective from negative and skeptical to positive and optimistic, from scarcity to abundance. This is a much healthier and more resourceful state of mind to start the day with. And it helps put a smile on your face.
Section Six - Two Minutes – Listening/Journaling:
Perhaps one of the most important aspects of this exercise is having a safe place for your voice. Take the time, with your eyes closed, to listen to whatever inner guidance, ideas, suggestions or lessons you may hear. Keep the journal in your lap, pen in hand. As each idea comes through, jot it down. The formal part of the process is over in two minutes, but you may find that this is so valuable and practical, that you may want to keep going for a bit longer. That's okay. Let yourself have your say without censoring.
This ten minutes each day is best spent just after waking up in the morning, or before going to sleep at night. It also helps to do it at approximately the same time each day. Spend this time on yourself. Spend this time with yourself. You're worth it, and the shift in your mind-set alone is worth the effort. You will notice that you get so much out of it you may want to do it both morning and evening. That works too. Remember, it's only ten minutes out of your day, (1,440 minutes) and you certainly have that to spend on an exercise which can actually change your life for the better.
****************
Resource Links:
Conscious Communication - the podcast series
Personal Life Media - "Coaching the Life Coach:"
Communication Excellence (Podcast Snippets)
Communication Excellence (full interview)
Interview for Entrepreneur Magazine Radio w/ Romanus Wolter
Interview Podcast for Evolutionary Radio w/ Jason McClain
Kind Ambition - 2nd Edition now available
Got Blog? come visit the Blog. Rants and delvings for your entertainment.
Character Driven - Ever want to create characters that were so believable, that people forgot they were characters?

****************
Subscribe to the Conscious Communication Chronicle
Welcome to the Conscious Communication Chronicle, sharing how Conscious Communication results in success, and how you can achieve yours. Enjoy!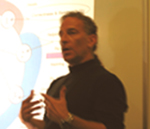 Ian Blei,
Director of the
Integral Enneagram Institute and
President of
Optimized Results


Holiday Special
Since it makes such a great gift, when you buy "Kind Ambition" directly from me, you can get a second copy for ONLY $5.00!
Buy 10 copies and get the 11th copy for FREE!
also available at:

Browser Books
2195 Fillmore St.
San Francisco, CA

Cover to Cover
1307 Castro St.
San Francisco, CA

Phoenix Books
3850 24th St.
San Francisco, CA

and of course the 800 lb.
Amazon.com

Kind Ambition:
Practical Steps
to Achieve Success
Without Losing Your Soul

Kind Ambition is about you having the tools to slide over to the driver's seat of your own life. Circumstances will always be changing, seemingly thwarting our plans, but we don't have to be thrown around by them. You can be in charge of your choices and actions more than you might imagine - yet.
Kind Ambition is written for you, as a practical guide you can use right now. It is a collection of insights and actions designed to help you move forward and get more out of your life at home and at work. The chapters hold to a formula of first giving you a new way to look at things, then offering you tangible Action Steps to try them out, and finally some things to notice when you do.
Kind words for "Kind Ambition"
"If you are interested in success, whether it is in running a large organization, a small business, or leading a satisfying life, you will find a right blend of rules, wisdom and wit in a digestible fashion that will serve to accomplish your objectives. The notion that kindness can be blended with ambition and made to work and serve the "bottom line" is enlightening, uplifting and satisfying."
-Steven Kiefel – CEO, Red Pill Media
"An easy to use guide for anyone who wants to achieve real
growth and success. His sensible and practical tactics
solve age-old challenges with real, how-to solutions. Best of all, Ian lives his work!"
-Romanus Wolter - Author: Kick Start Your Dream Business
Success Coach Columnist: Entrepreneur Magazine
Radio Host: Syndicated Kick Start Guy Segment
" We all face obstacles in our lives and careers. Some of these come from within, subverting our conscious intentions. The good news is: they can be overcome. The techniques and processes found in this book will help you on your way."
-Margaret Heffernan – Author: The Naked Truth: A Working Woman's
Manifesto on Business and What Really Matters
Syndicated Columnist: Fast Company Magazine
"A scientifically-based, spiritually-awake, (and smart and funny) guide to making the most of your life. Ian Blei provides the know-how, the inspiration, the structure and all the tools you need in this straightforward and inspirational book."
-Lisa Betts-LaCroix, Past President of SF Coaches
Star of Unapix film, "Dance Me Outside"
" Ian Blei shares his deep insights in simple and straightforward ways. His work continues to inspire me whenever I feel I'm getting stuck in some area of my life."
-Roy King, III, Director Pacific Development Partners