Welcome to the Conscious Communication Chronicle, sharing how Conscious Communication results in success, and how you can achieve yours. Enjoy!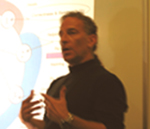 Ian Blei,
Founder of
Optimized Results



Also available at:
Browser Books
2195 Fillmore St.
San Francisco, CA

Kind Ambition:
Practical Steps
to Achieve Success
Without Losing Your Soul

Kind Ambition is about you having the tools to slide over to the driver's seat of your own life. Circumstances will always be changing, seemingly thwarting our plans, but we don't have to be thrown around by them. You can be in charge of your choices and actions more than you might imagine - yet.
Kind Ambition is written for you, as a practical guide you can use right now. It is a collection of insights and actions designed to help you move forward and get more out of your life at home and at work. The chapters hold to a formula of first giving you a new way to look at things, then offering you tangible Action Steps to try them out, and finally some things to notice when you do.
Kind words for "Kind Ambition"
"If you are interested in success, whether it is in running a large organization, a small business, or leading a satisfying life, you will find a right blend of rules, wisdom and wit in a digestible fashion that will serve to accomplish your objectives. The notion that kindness can be blended with ambition and made to work and serve the "bottom line" is enlightening, uplifting and satisfying."
-Steven Kiefel – CEO, Red Pill Media
"An easy to use guide for anyone who wants to achieve real
growth and success. His sensible and practical tactics
solve age-old challenges with real, how-to solutions. Best of all, Ian lives his work!"
-Romanus Wolter - Author: Kick Start Your Dream Business
Success Coach Columnist: Entrepreneur Magazine
Radio Host: Syndicated Kick Start Guy Segment
" We all face obstacles in our lives and careers. Some of these come from within, subverting our conscious intentions. The good news is: they can be overcome. The techniques and processes found in this book will help you on your way."
-Margaret Heffernan – Author: The Naked Truth: A Working Woman's
Manifesto on Business and What Really Matters
Syndicated Columnist: Fast Company Magazine
"A scientifically-based, spiritually-awake, (and smart and funny) guide to making the most of your life. Ian Blei provides the know-how, the inspiration, the structure and all the tools you need in this straightforward and inspirational book."
-Lisa Betts-LaCroix, Past President of SF Coaches
Star of Unapix film, "Dance Me Outside"
Conscious Communication: bringing communication up from "auto-pilot" and reactive, to thoughtful, responsive, and above all, intentional.
****************
Last month I touched on some lessons about teamwork that we can learn from Auto Racing. There are of course hundreds more to be found if we keep digging, and this month I'd like to share some insights that are more for you as an individual.
Of course, any insight that can be viewed from a "universal analogy" position can be applied to an individual or an organization as a whole, so feel free to apply this to your own life/situation as you'd like.
Minimize lateral Motion
This is so core that it becomes almost forgotten as a fundamental. Auto Racing gives us a nice physical analogy to re-invigorate the concept.
Although they may look nice and smooth on TV, race tracks are often as rough and bumpy as the course you or your business are on. They've often been compared to giant cheese graters. As your car speeds around the track, the corners add centrifugal force lateral to the direction you're aiming for.
The more you slide sideways, the more the rubber gets grated off your tires. The more the rubber gets grated off, the worse your car handles, and the more likely you'll get a blowout and perhaps wreck.
Activity that is lateral to your chosen direction uses up your resources quickly, and puts you and your organization at risk. If the activity is in line with your chosen path, it supports you. You can think about it as peripheral vision. If you have to actually turn to face the new activity; don't.
Long View / Short View
Another wonderful lesson we can take from racing is the need to be able to hold both a long and short term view of what's in front of us. Some folks have called this far-sighted and near-sighted perspective, or a bi-focal view.
If your car is overheating, there might be a tendency to react to it immediately; make a pit stop for adjustments or repair. To pit while everyone else is running close to 200 mph will leave you so far behind you might never catch up. If it's a 400 mile race, the odds are that something will bring out a caution flag, and you'll be able to pit while everyone else is only going 50 mph, and even more likely that they'll pit right along with you, so you won't lose your position.
Looking at the long-term, you're more likely to see opportunities and strategies for achieving your goal. A driver can turn off numerous fans and devices from his seat, reducing the drag on the engine until he can pit at a more opportune time.
Keeping one eye on the short-term you can minimize or mitigate issues until you have the opportunity to address them without as much downside.
A Million Compromises a Day
When you set a car up for a given track, that track actually has both straight-aways and a minimum of three corners (Infineon Raceway in Sonoma County has 11 curves). They're rarely the same in radius or banking, so each requires differences in chassis geometry, tire pressure, and suspension.
Obviously you can't do that, so the set up will always compromise perfection in one turn for the best we can get it for all of them.
Best case scenarios and ideals are imperative to successful goal setting, and yet reality dictates that we compromise constantly. I'm not saying to wave the flag of surrender at all. Quite the contrary, intelligent incremental compromises in the service of your end goal facilitate getting there. This requires a bit of that long term vision again. There's an old expression: "winning the battle and losing the war." We're talking about flip-flopping that; sacrificing the battle to win the war.
When compromise feels like a loss, look at your larger goal. Isn't it worth losing even a few battles to win the war? Most of these skirmishes are over insignificant issues, and the resistance to compromise is more often than not a "matter of principle" rather than a genuine obstruction to the goal.
So remember what champion racers know:
Minimize lateral motion

Maintain long and short term views

Be ready to make a million compromises a day.
"Why Communication Goes Awry" - Interview for Entrepreneur Magazine Radio w/ Romanus Wolter
Podcast for Evolutionary Radio w/ Jason McClain
Podcast "Coaching the Coach" for Personal Life Media
Kind Ambition - 2nd Edition now available
Got Blog? come visit the Blog. Rants and delvings for your entertainment.
Character Driven - Ever want to create characters that were so believable, that people forgot they were characters?

****************
" Ian Blei shares his deep insights in simple and straightforward ways. His work continues to inspire me whenever I feel I'm getting stuck in some area of my life."
-Roy King, III, Director Pacific Development Partners
Subscribe to the Conscious Communication Chronicle