Welcome to the Conscious Communication Chronicle, sharing how Conscious Communication results in success, and how you can achieve yours. Enjoy!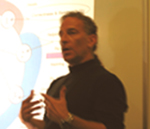 Ian Blei,
Founder of
Optimized Results



Also available at:
Browser Books
2195 Fillmore St.
San Francisco, CA

Kind Ambition:
Practical Steps
to Achieve Success
Without Losing Your Soul

Kind Ambition is about you having the tools to slide over to the driver's seat of your own life. Circumstances will always be changing, seemingly thwarting our plans, but we don't have to be thrown around by them. You can be in charge of your choices and actions more than you might imagine - yet.
Kind Ambition is written for you, as a practical guide you can use right now. It is a collection of insights and actions designed to help you move forward and get more out of your life at home and at work. The chapters hold to a formula of first giving you a new way to look at things, then offering you tangible Action Steps to try them out, and finally some things to notice when you do.
Kind words for "Kind Ambition"
"If you are interested in success, whether it is in running a large organization, a small business, or leading a satisfying life, you will find a right blend of rules, wisdom and wit in a digestible fashion that will serve to accomplish your objectives. The notion that kindness can be blended with ambition and made to work and serve the "bottom line" is enlightening, uplifting and satisfying."
-Steven Kiefel – CEO, Red Pill Media
"An easy to use guide for anyone who wants to achieve real
growth and success. His sensible and practical tactics
solve age-old challenges with real, how-to solutions. Best of all, Ian lives his work!"
-Romanus Wolter - Author: Kick Start Your Dream Business
Success Coach Columnist: Entrepreneur Magazine
Radio Host: Syndicated Kick Start Guy Segment
" We all face obstacles in our lives and careers. Some of these come from within, subverting our conscious intentions. The good news is: they can be overcome. The techniques and processes found in this book will help you on your way."
-Margaret Heffernan – Author: The Naked Truth: A Working Woman's
Manifesto on Business and What Really Matters
Syndicated Columnist: Fast Company Magazine
"A scientifically-based, spiritually-awake, (and smart and funny) guide to making the most of your life. Ian Blei provides the know-how, the inspiration, the structure and all the tools you need in this straightforward and inspirational book."
-Lisa Betts-LaCroix, Past President of SF Coaches
Star of Unapix film, "Dance Me Outside"
Conscious Communication: bringing communication up from "auto-pilot" and reactive, to thoughtful, responsive, and above all, intentional.
****************
This last month has been packed with some of the most thrilling auto racing in a long time. From the Indianapolis 500 to NASCAR's Coca Cola 600, every aspect of what makes auto racing so exciting was being put on display with more incredible camera work and televised telemetry than ever before.
Forty-three teams competing simultaneously, playing chess at 200 mph, with a constantly shifting plethora of variables to stay on top of and adjust for is quite a spectacle.
If we're paying attention, we can learn much about how to create and maintain a championship team that wins in the marketplace over and over again.
Why is it that out of those forty-three teams, the same ten or so seem to be at the checkered flag week in and week out? What are they doing right, and how can you apply their hard learned lessons, without the pain and expense that they go through?
When we compare the top teams to the struggling ones, we see that they are doing exactly what needs to be done in any business, especially in the 21st century market. We can boil it down to three rules or areas that will make a champion out of a contender: communication skills, fierce tenacity, and responsiveness to change with the ability to adjust.
Communication Skills
2006 NASCAR champion driver Jimmie Johnson cites communication time and time again as his reason for being one of the most winning drivers of the past 5 years. Along with the entire team, he has incredible communication with his Crew Chief, Chad Knaus. They've worked on a common language built from their shared background in engineering, and have developed a level of ultimate trust in each other's abilities. Neither tries to tell the other how they should do their job. The driver is like a quarterback, and the Crew Chief is like a Team Coach. Jimmie gives Chad verbal feedback about how the car is performing in terms of rear-end vs. front slide, rollover, and things of that nature.
Chad takes this information and converts it into adjustments in chassis geometry, tire pressures, and shock absorber spring tightness, among thousands of other variables that they will implement at the next Pit Stop. He communicates this to his Pit Crew, who each fly into action as the number 48 car comes screeching into its Pit.
Fill it with fuel, change 4 tires, chassis adjustments, pull a "spring rubber" out of the left rear shock, and gone in 14 seconds. Because every second the rest of their competition is traveling 1.5 football fields in distance.
Chad will do fuel usage calculations, and give Jimmie the task of adjusting his driving to conserve when necessary (waiting a split second longer before braking, or before getting back on the gas).
And we're not even mentioning the Spotters; those guys standing on the top of the grandstands with binoculars, telling the drivers who is where, trying to see through the smoke of a spin-out, as the drivers can't turn their heads to see around them.
Phenomenal drivers who don't have great communication with their team are not winning. Dale Earnhardt, Jr. is one of the best in the business, and he hasn't won a Cup race in over a year. The stress and strain of internal politics and fighting will prevent even the best from achieving their potential.
Refuse to Lose
A driver who has become almost a legend by age 35 is Jimmie Johnson's mentor and friend, Jeff Gordon. He was the protégé' of Dale Earnhardt, Sr., who lived by this rule: "It's not the driver with the fastest car, but the driver who refuses to lose." Jeff and his team have become the poster children of "never give up," when it comes to racing. Giving up is a great way to beat yourself.
Gordon has proven the power of believing in your team and not giving up so many times it has become their trademark. At Darlington last month, engine sputtering and overheating, with a geyser of water shooting in the air, spelling certain death for the car, Gordon stayed on the track when others pitted, keeping air running through his radiator, and somehow won the race. This season, he has won so many races, that even missing the Coca Cola 600 after being smashed to smithereens by another driver, his points lead held fast.
Responsiveness to Change and Ability to Adjust
And saving the best for last, this is the single most important skill set that any organization can have. Hendricks Motorsports, the organization that both Johnson and Gordon drive for have won 9 out of the last 10 races, which is unheard of. When asked what they are doing differently, it becomes an abject lesson in business.
Starting with no assumptions about the track or the conditions, they bring a car that is the equivalent of the "empty cup." Chad Knaus calls this a vanilla race car. Then, using those fantastic communication skills, they tweak and adjust the car constantly throughout the race. They may start out in the back of the pack, but through all the adjustments and tweaks, by the end of the race, they are always in the top 5 or 10. And as racers love to say, the only lap that matters is the last one.
Pay attention to your customers and your employees, listen to everything, make tiny adjustments and see how they pan out, then adjust some more. Refuse to lose; believe in yourself and your teammates. Communicate, communicate, communicate. Nothing can be improved when it is a secret.
There's another old rule: You can either look good, or get better, but not both at the same time. We need to be more focused on that last lap, than looking good during the rest of the race. Everything up to the checkered flag is about continuous improvement.
"Why Communication Goes Awry" - Interview for Entrepreneur Magazine Radio w/ Romanus Wolter
Podcast for Evolutionary Radio w/ Jason McClain
Podcast "Coaching the Coach" for Personal Life Media
Kind Ambition - 2nd Edition now available
Got Blog? come visit the Blog. Rants and delvings for your entertainment.
Character Driven - Ever want to create characters that were so believable, that people forgot they were characters?

****************
" Ian Blei shares his deep insights in simple and straightforward ways. His work continues to inspire me whenever I feel I'm getting stuck in some area of my life."
-Roy King, III, Director Pacific Development Partners
Subscribe to the Conscious Communication Chronicle