Conscious Communication: bringing communication up from "auto-pilot" and reactive, to thoughtful, responsive, and above all, intentional.
No time? Listen to the podcast (6:42 min.) in the background while you file, exercise, ride to work, etc.
The Owl and the Ostrich
(click for podcast)

The Owl and the Ostrich represent two very different approaches to life. The ostrich is known for hiding his head when sensing trouble, much like a small child hiding his face behind his hands. The rationale being "if I can't see you, you can't see me."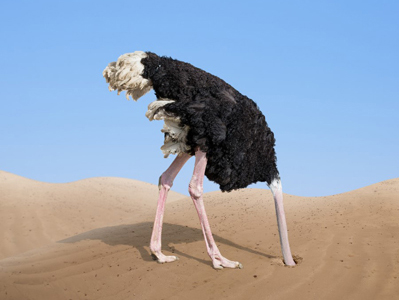 As we get older, we learn that doesn't work, yet often continue to apply that philosophy to our jobs and lives. We feel as though if we don't look at something disturbing, it won't get to us. On the other hand, the owl has phenomenal sight, and rotates her head almost all the way around like a radar dish, to pick up every bit of information available. Although she doesn't have to act on everything she sees, no opportunity gets by her either.

There are a number of reasons we avoid pursuing information, even when we know it's in our best interest. We do similar things for different reasons as often as we do different things for the same reasons. Our motivations are driven by the way we see and understand the world around us. Here are some solutions to the more popular reasons for putting our heads in the sand.


1. Face the Fear Factor
Fear may be one of the most popular reasons for avoidance. Either we're afraid of what we'll see, what we'll have to change, embarrassing ourselves, or what we knew all along, but didn't want to admit to ourselves. Sometimes we're afraid to cause conflict, be criticized, get someone mad at us, or create a rift of some sort. The boogie-man is only scary in the dark. Avoiding keeps us in that dark. Think of checking in as turning on the lights. Remember, we don't have to act on everything we know, but the more we know, the more opportunities we have available to us.

2. Breach the Boundaries
We're often very conscious of our comfort zones, and the desire to not make others uncomfortable. Sometimes we'd like to check in and verify our information, but it feels as if we'd be prying or being too personal. Remind yourself of the common goals you share. Those goals have priority over minor discomforts. Pursuing information to help achieve those goals can be done in a respectful manner, keeping the goals pre-eminent. Everyone concerned will be in a better position for having clear communication, and knowing what's going on.

3. Out of sight is not out of mind, so go ahead and look
We get into a rhythm and have momentum in what we're doing. To stop, look up, and gather information feels as if it takes us off task and slows us down. We could just keep going, and unless something is terribly wrong, we may not have to deal with the issue. Virtually nothing is solved by avoidance. Letting something continue to go wrong almost ensures that the problem will worsen. This phenomenon is well illustrated by the word: entropy.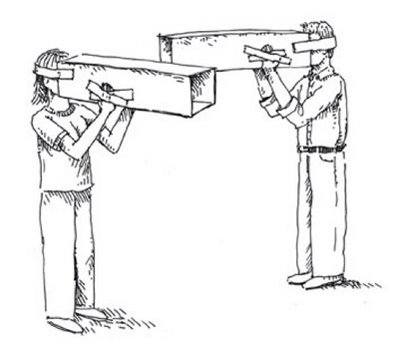 To Sum Up
Your best solutions will always come from having as much information as possible. You don't always need to act on that information, but if action is necessary, you don't want to miss the opportunity. The owl doesn't need to leave her perch every time she sees movement, but being aware means never missing a meal.

This level of awareness can have a powerful and positive affect on your life. One of my clients was having some difficulty several years ago. Our work showed her how examining her efforts and revenues would show where she was winning and drowning, but she found herself avoiding this. Her internal "talk" told her that change was dangerous and worse, that she should feel shame about getting into this position in the first place.

The great news is that as soon as she did look at the information, although the problem became real, so did the solution! We illuminated a niche in the market that she was uniquely suited to fill. She catapulted her business from just another fish in the pond, to the only fish of its kind in the pond. The glory of the solution always outshines a problem in the dark, so go ahead; look around, find out and know what's going on, and take advantage of the opportunities that await you.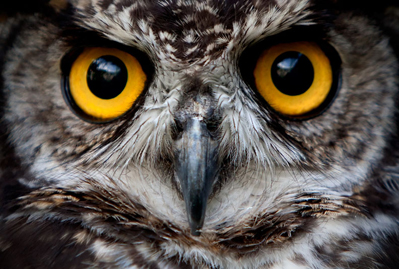 Whether you want to improve your effectiveness in business, in your home life, in relationships, etc. the most important common element is you. Knowing and being in command of your resources gives you the ability to shift from reactive to proactive in every facet of your life.

- Ian J. Blei

****************

Special Offer -
Don't be Afraid to Be Your Best:

October means it's time for Halloween and all the scary things that go bump in the night. Would it surprise you that the most common fear people have is letting go of the "stories" that have them trapped in their limitations and barriers? We can leapfrog right over those limitations with just a bit of knowledge and understanding about how we (and everyone around us) tick. We can become incredibly competent and confident, if we're brave enough to allow it.

To make this easier for everyone, I'm offering 3 Dynamic Discovery Sessions to three lucky people (who haven't already gotten them) just for including the secret word in the subject line of your email: "Jack-o-Lantern."

Discover your resources and challenges, and exactly how you work, so you can be every bit as incredible as you were meant to be.

Click to Schedule.

Each free session is normally a $250.00 value, and will be worth much more to you in life-changing ways. Good luck!


****************

Quick Communication Tip

Know Before You Blow
You know people who talk off the top of their head, or seemingly out of other parts of their body, and it both annoys you and discredits them. Obviously this is not a preferable communication style. It may sound obvious, but knowing what we're talking about is extremely powerful.

Conversely, not knowing what we're talking about is both bad and easy to fix. When we're communicating with someone about what they feel, think, or know, let them talk. Ask questions, and keep your assumptions and projections in check. When communicating about objective facts and figures, do your homework. I heard someone say that laying off 15,000 people would save $50 million. Divide the numbers, and that's a little over $3,000 per person. Know anyone who has that as an annual salary? Anyone paying attention were calling him less friendly things than a liar. He lost all credibility with his audience.

Want to learn more about how your communication can hold you back or catapult you forward? Come visit the web site, or better yet, contact me and see how we can design a program to fit your needs and desired outcomes.


****************


Resource Links:

Conscious Communication - the podcast series

KG Stiles: "Conversations that Enlighten and Heal"
Ian Blei on Kind Ambition and the Integram (TM)

Kind Ambition - 2nd Edition

Got Blog? come visit the Blog.

Character Driven - Ever want to create characters that were so believable, that people forgot they were characters?

****************
Subscribe to the Conscious Communication Chronicle
Welcome to the Conscious Communication Chronicle, sharing how Conscious Communication results in success, and how you can achieve yours. Enjoy!



The Optimizer
Ian Blei,
Director of the
Institute for Integral Enneagram Studies and
President of
Optimized Results
415.826.0478

Kind Ambition
Click HERE

Kind Ambition:
Practical Steps
to Achieve Success
Without Losing Your Soul

Kind Ambition
Fan Page on
FACEBOOK
Kind Ambition is about you having the tools to slide over to the driver's seat of your own life. Circumstances will always be changing, seemingly thwarting our plans, but we don't have to be thrown around by them. You can be in charge of your choices and actions more than you might imagine - yet.
Kind Ambition is written for you, as a practical guide you can use right now. It is a collection of insights and actions designed to help you move forward and get more out of your life at home and at work. The chapters hold to a formula of first giving you a new way to look at things, then offering you tangible Action Steps to try them out, and finally some things to notice when you do.
Kind words for "Kind Ambition"
"If you are interested in success, whether it is in running a large organization, a small business, or leading a satisfying life, you will find a right blend of rules, wisdom and wit in a digestible fashion that will serve to accomplish your objectives. The notion that kindness can be blended with ambition and made to work and serve the "bottom line" is enlightening, uplifting and satisfying."
-Steven Kiefel – CEO, Red Pill Media
"An easy to use guide for anyone who wants to achieve real growth and success. His sensible and practical tactics solve age-old challenges with real, how-to solutions. Best of all, Ian lives his work!"
-Romanus Wolter - Author: Kick Start Your Dream Business
Success Coach Columnist: Entrepreneur Magazine
Radio Host: Syndicated Kick Start Guy Segment
" We all face obstacles in our lives and careers. Some of these come from within, subverting our conscious intentions. The good news is: they can be overcome. The techniques and processes found in this book will help you on your way."
-Margaret Heffernan – Author: The Naked Truth: A Working Woman's
Manifesto on Business and What Really Matters
Syndicated Columnist: Fast Company Magazine
"A scientifically-based, spiritually-awake, (and smart and funny) guide to making the most of your life. Ian Blei provides the know-how, the inspiration, the structure and all the tools you need in this straightforward and inspirational book."
-Lisa Betts-LaCroix, Past President of SF Coaches
Star of Unapix film, "Dance Me Outside"
" Ian Blei shares his deep insights in simple and straightforward ways. His work continues to inspire me whenever I feel I'm getting stuck in some area of my life."
-Roy King, III , Director Pacific Development Partners