The Integram: an Integral Enneagram of Consciousness; a model of consciousness, including all aspects, for designing practical paths of personal development and evolution.
Quick Links: so you can jump to any section

Feature Article

No time? Listen to the podcast (8:48 min.) in the background while you file, exercise, ride to work, etc.
Upcoming Events
Feature Article
Special Offers
Resource Links
Eliminate Blame From the Equation
(click for podcast)

Blame and Shame; Close Cousins
Eliminating blame is so powerful that this one single shift will catapult your efforts to improve everything from cost containment to business processes to personal relations and teambuilding. From a Bang-for-the-Buck perspective, this change alone will give your life a healthy booster shot.
Aside from shame and blame having a causal relationship to one another, they have several other things in common. For one, blame is as pervasively (and fundamentally) woven into our culture as shame. For another, neither add any positive impact on or value to any problem solving process. What's worse, they're actually both counter-productive to such processes. So here we are once again, faced with our typical cultural behavior standing in our own way of progress. And it being pervasively woven into the culture is going to make it difficult to remove. Don't let this stand in your way, though. The sweeter fruit tends to be further out on the branches.
First, in using blame, what are we trying to achieve or accomplish? Would it be safe to say that we're trying to avoid the shame that we anticipate will be dumped on us as a result of (somebody) making a mistake or doing something "wrong?" Notice it's not really important who made the mistake. It's just important that you don't get blamed for it, because of that shame thing. Now sometimes the shame thing is so embraced by a company's culture, that there are systems in place to make it official (demotions, pay-cuts, probation, firing) and sometimes it's just the usual tribal banishment (isolation from the "in" crowd.) Bottom line, there's no actual solution inherent in blaming. Nothing gets fixed.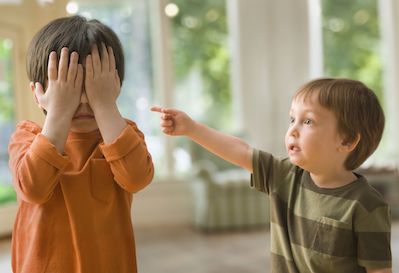 It's the same thing outside of business, in relationships and actions in general. Someone taking responsibility for a deed is only useful for getting to the core of the problem, unless we're talking about actual crimes. Figuring out why it happened and how to prevent it in future is far more useful.

Blame Tries To Close the Door, Without Fixing
When talking about making mistakes, I'm not talking about performance issues. This is not about someone not caring about what they're doing, and exhibiting a trend of sloppy work. This is about looking beyond "who is to blame," and looking at the problem to be solved. All the Blame Game is capable of creating is an atmosphere of fear, anxiety, and animosity. This atmosphere stops people from coming together to solve problems in team fashion. There's simply too much suspicion and fear, and of course the overriding concern is about the blame, not about coming up with a solution. Worse, this divisiveness enforces an "us or them" mentality which always disallows cooperative problem solving.
As an example, I'll lightly disguise a client scenario from years ago. A manager blamed a machine operator saying, "Tom messed up that part again." There's no further exploration into why, because the manager protected himself from whatever punishment or shaming behavior is being held over either of their heads. What's worse, Tom has now gotten a black mark on his reputation, without due process or a jury of his peers. Now, what if we look into why Tom messed up that part? What if we find out that it's not about Tom's being incompetent at all? What if we find out that Tom has been complaining for months that his lathe has bad bearings and the material won't spin true? When we stop blaming Tom for messing up, we can actually find real solutions for real problems. (In this scenario we'd also discover that there's a communication breakdown between the production floor and management as well.)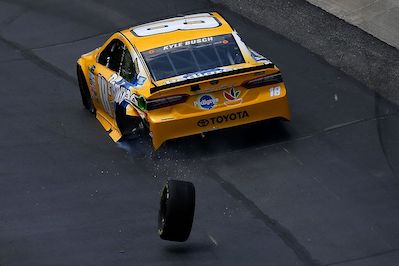 When we stop blaming the shipping department for getting an order wrong, we open up the discussion to discover that there's a communication breakdown between the sales department and the shipping department, which can now be solved. We stop passively accepting the log jams being somebody's fault, and start actively looking at them as common obstacles to work on together.

Action Steps
1. Start actively becoming conscious of where and when blame comes up in meetings, conversations, and other discussions about processes or problems.
2. Make it a rule that there will be No Blaming in these discussions, and everyone will simply have to find another way to describe what is happening. (The order arrived late vs. Joe processed the order too slowly).
3. Find ways to reward the behavior of taking on responsibility for solving problems as opposed to off-loading the responsibility by blaming others.

The more this behavior is rewarded in place of hiding behind blame being rewarded, the more people will actually come together, take on responsibilities, and help you build a better, more prosperous organization (or relationship.)
If you're a sole proprietor, dealing with vendors, suppliers, and clients in this manner will help you enroll them in your virtual organization, and get them on your team. If you're a parent, you can teach a far more conscious and effective approach to problem solving to your kids. In a relationship, removing the Blame Game allows you to concentrate on solutions together, rather than blame tearing you apart.
When you eliminate blame from the equation, you'll get positive, real solutions.




Want to learn more about how to become the best you possible? Come visit the web site, or better yet, contact me and see how we can design a program to fit your needs and desired outcomes.

- Ian J. Blei


****************

August Special:
It worked out so nicely for people last month, so I'm once again offering 3 complimentary Dynamic Exploration Sessions (1 session each) to the first 3 people (who haven't already worked with me) who email me this month's secret word: "Blameless" Just put "No Blame" in the Subject Line of your email, along with your contact info, and we'll schedule your session.

"He combines his extensive knowledge of integral theory, the Enneagram, and neuroscience, in a seamless way (truly a Grand Unifying Theory of Everything), and helps you apply this greater understanding to whatever matters to you. He helps you build the trellis which you can hang any flower on that you choose.." - P.R., - S.F.

Each session is normally $249.00, and will be worth much more to you in life-changing ways. Good luck! Click to Schedule.
Resource Links:

The Integram (TM) - the podcast series

Melissa Risdon's Raving Fan Radio Show:
Ian Blei on the Integram (TM) -understanding ourselves, each other, and our relationships

Kind Ambition - 2nd Edition

****************
Subscribe to the Integram
Welcome to the Integram, where consciousness meets intentional design. Enjoy!



The Optimizer
Ian Blei,
Director of the
Institute for Integral Enneagram Studies and
President of
Optimized Results
415.826.0478

Kind Ambition
Click HERE

Kind Ambition:
Practical Steps
to Achieve Success
Without Losing Your Soul

Kind Ambition
Fan Page
now on
FACEBOOK
Kind Ambition is about you having the tools to slide over to the driver's seat of your own life. Circumstances will always be changing, seemingly thwarting our plans, but we don't have to be thrown around by them. You can be in charge of your choices and actions more than you might imagine - yet.
Kind Ambition is written for you, as a practical guide you can use right now. It is a collection of insights and actions designed to help you move forward and get more out of your life at home and at work. The chapters hold to a formula of first giving you a new way to look at things, then offering you tangible Action Steps to try them out, and finally some things to notice when you do.
Kind words for "Kind Ambition"
"If you are interested in success, whether it is in running a large organization, a small business, or leading a satisfying life, you will find a right blend of rules, wisdom and wit in a digestible fashion that will serve to accomplish your objectives. The notion that kindness can be blended with ambition and made to work and serve the "bottom line" is enlightening, uplifting and satisfying."
-Steven Kiefel – CEO, Red Pill Media
"An easy to use guide for anyone who wants to achieve real growth and success. His sensible and practical tactics solve age-old challenges with real, how-to solutions. Best of all, Ian lives his work!"
-Romanus Wolter - Author: Kick Start Your Dream Business
Success Coach Columnist: Entrepreneur Magazine
Radio Host: Syndicated Kick Start Guy Segment
" We all face obstacles in our lives and careers. Some of these come from within, subverting our conscious intentions. The good news is: they can be overcome. The techniques and processes found in this book will help you on your way."
-Margaret Heffernan – Author: The Naked Truth: A Working Woman's
Manifesto on Business and What Really Matters
Syndicated Columnist: Fast Company Magazine
"A scientifically-based, spiritually-awake, (and smart and funny) guide to making the most of your life. Ian Blei provides the know-how, the inspiration, the structure and all the tools you need in this straightforward and inspirational book."
-Lisa Betts-LaCroix, Past President of SF Coaches
Star of Unapix film, "Dance Me Outside"
" Ian Blei shares his deep insights in simple and straightforward ways. His work continues to inspire me whenever I feel I'm getting stuck in some area of my life."
-Roy King, III , Senior Partner/Channel Marketing Manager - Skype