The Integram: an Integral Enneagram of Consciousness; a model of consciousness, including all aspects, for designing practical paths of personal development and evolution.
Quick Links: so you can jump to any section

Feature Article

No time? Listen to the podcast (8:58 min.) in the background while you file, exercise, ride to work, etc.

Upcoming Events
Feature Article
Special Offers
Resource Links
Alternative Website
ianblei.com is in responsive code for phones and tablets. let me know what you think!

****************
Integral What?
(click for podcast)

Changing the Game
You're probably familiar with that definition of crazy; doing the same thing over and over expecting different results. It's amazing how many of us know this, and yet find ourselves doing just that. This intersects nicely with a quote from Albert Einstein: "we cannot solve problems with the same thinking we used when we created them."

So if we feel scattered and compartmentalized, why would we try scattered, compartmentalized solutions?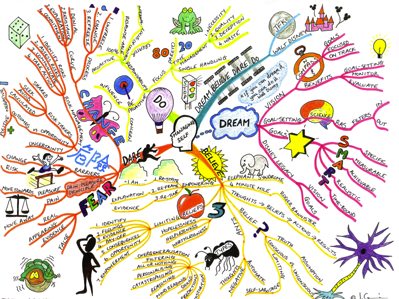 If we want to feel more grounded and centered, why wouldn't we look for a grounded, centering solution?

Let's look at a very common issue: the elusive work/life balance. In this context, balance is a myth. To achieve balance, we need both sides of the scale to be static, and that's not realistic. The closest thing we can do will be constant micro-adjustments, as each side of the scale shifts from day to day or moment to moment. So the peaceful state of balance we seek will actually be ever-changing, ever-shifting constant micro-adjustments. That's not peaceful. It is trying to solve the problem using the same thinking that created it, and doing this over and over hoping for different results? Well we already named that.

So what if we threw out the concept of work/life balance, and stopped trying to create stasis in a dynamic world? What else might work? What if instead of putting work and life on opposite sides of a scale, we integrated them as a singular, functioning process? We wouldn't have to constantly take from one to give to the other. We could integrate our work into our life, and our life into our work, so they both feed and replenish one another, and us.

We could interact in both places more authentically from within, rather than constantly trying to figure out what everyone else wants, and jumping through hoops getting exhausted. It's a hit or miss process at best, and the people we're interacting with aren't static either, so it becomes a lifelong game of "Whack-A-Mole," trying to figure out who to be and how to act. The grounded, centered approach is to be who you are from within, and give work and your life consistently the best version of you possible. The best version of you possible. Wouldn't that work in virtually any situation?


Practical Integral Application
This is where a truly Integral approach excels. For anyone not familiar with Ken Wilber or Integral Theory, he created a simplified map of the regions in which we develop and live using a matrix of quadrants, which include: interior and exterior-individual, and interior and exterior-collective. Here's a super simplified description.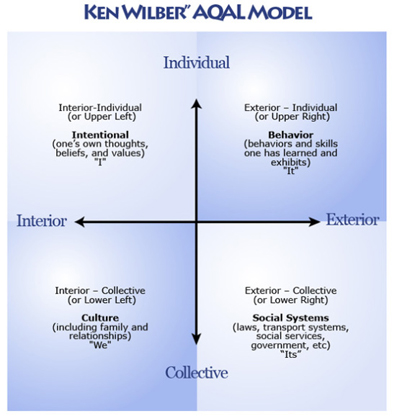 Interior-individual contains your intentional self; your feelings, thoughts, beliefs, and all the internal aspects of mind that make you who you are. Exterior-individual includes your behaviors and everything others see on your outside. I include and even emphasize your physiology, as it has an enormous impact on the other quadrants. Interior-collective can be described by "we." That can be relationship, family, culture, and so on. Exterior-Collective includes the "it" aspects of humanity, from systems to governments, to humanity as a whole. Our lives involve each quadrant, and we develop and grow in each as well.

Integral Coaching works with the Whole You, leaving nothing behind, and not splintering pieces of your life off in different directions. By integrating every aspect of you, there's only one you at the center or hub of your activities, rather than running from thing to thing, madly trying not to drop anything or be the wrong version in the wrong place at the wrong time. The latter is a recipe for anxiety, frustration, stress, and burnout.

This dovetails with my previous post and podcast about the fragileness of focusing on the external so exclusively. Without the strength and substance of our internal selves built on solid Values, we become non-entities; hollow shells, flitting about trying to figure out who to be and how to act.

The same goes for the Interior Collective quadrant. When an organization doesn't start with a solid foundation of Values, it has no true identity and ends up flitting about the market trying to figure out who to be and how to act. This is why Integral Coaching focuses on all of these areas simultaneously. They all support and reinforce one another, creating stronger individuals, relationships, and organizations.

It's hard to admit that our biggest obstacle is us. All the things flying around our heads like snowflakes in a snow globe are going to be there. Stuff happens. We're the biggest variable; how we interpret and deal with things is the only thing we really have control over, and it's not carved in stone.

Several species shed their skins or shells when they prevent growth. On the outside, we do this with clothing. Why don't we shed the beliefs and filters that limit our emotional and intellectual growth? Probably because most of us don't realize that we can. We can throw off the limitations of our current thinking and re-address life from a new perspective from within.


Integration
When we know who we truly are from the inside out, regardless of external pressures from marketing, media, family or peers, we become stable, confident, grounded, and centered. We go from emotional tumbleweed to redwood tree. From this perspective, we know what we want to be doing, or at the very least, how we function. We can be grounded and centered while confidently, comfortably handling whatever is orbiting our core. We can create work environments and projects that support our Values, so we don't feel compelled to leave our Lives to go to work. We can do work that doesn't create a conflict with who we are, which compels us to leave work to go have lives.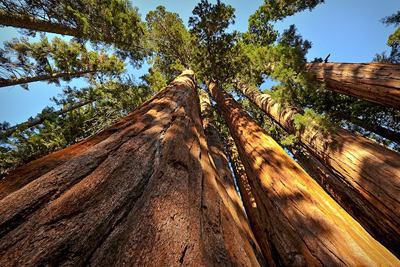 When an organization is founded on its Values, the "what" and the "how" of the doing becomes straightforward and obvious. This promotes stable, sustainable profitability, instead of volatility.

In the "we" world, both personal and professional relationships are enhanced. There's no running back and forth between personal and professional, between internal and external, between one version of yourself you think will work in one situation, and another. You can relax, breathe, and be authentic, which is always respected and appreciated more than an anxious chameleon.

Bottom line, Integral Coaching can help you to embrace what makes you you, rather than apologizing for it, and use your individual talents, feelings, and thoughts for the betterment of all. When you understand something and how it works, you feel confident about it. It's the same with your self. Your confidence skyrockets, as you embody the integrity of your congruence. When your feelings, thoughts, words, and actions are on the same page, pulling the same direction, there's no stopping you. This is what Integral Coaching brings you.

Want to learn more about how to become the best you possible? Want to grab your life with both hands and make it intentional and extraordinary? Come visit the web site, or better yet, contact me and see how we can design a program to fit your needs and desired outcomes.

- Ian J. Blei


****************

January Special Offers:

January is the time when so many of us go for starting fresh with new resolutions and so forth. The problem is using the same thinking we used when we created our problems, and doing that same thing every year is a low percentage return.

This year, you can do something completely different that can get you fantastic results. I'm offering two specials for January to fit your needs and budget.

1) I'm offering Dynamic Discover Sessions at 50% off to anyone who hasn't already had one, so you can start the year off with an edge: knowing your strengths, weaknesses, resources, blindspots, and communication style. In addition, you'll get the Essential 10 Minutes (tm) process that you can use well into the future, giving you clarity, focus, and direction. Regularly $195.00 but only $97.50 until January 31, and very likely can change your life. Click to Schedule

2) I'm offering a solid month of coaching for the
"Transformational Business Plan," again, at 50% off, so 4
weeks of working with you on this masterful workbook to
create the most productive and powerful year to date.
Workbook and four 1-hour sessions, only $499. I can't do
this beyond January 31st. It's a crazy discount, but I
want to help as many of you as possible to not have
another year go by where you're not the master of it. Click to Schedule.

"Long story short I was promoted twice quite quickly after working with Ian and have the tools needed to grow and manage my ever expanding team. I highly recommend Ian to anyone looking for personal and professional growth!" - D.D.., Regional Sales Director, West-USAe.

****************

Resource Links:

The Integram (TM) - the podcast series

AMP: Authentic Man Podcast:
a lively conversation between Ian Blei and Executive Director Casey Capshaw, covering everything from intimacy to video games.

Melissa Risdon's Raving Fan Radio Show:
Ian Blei on the Integram (TM) -understanding ourselves, each other, and our relationships

KG Stiles: "Conversations that Enlighten and Heal"
Ian Blei on Kind Ambition and the Integram (TM)

Kind Ambition - 2nd Edition

Got Blog? come visit the Blog.



****************
Subscribe to the Integram
Welcome to the Integram, where consciousness meets intentional design. Enjoy!



The Optimizer
Ian Blei,
Director of the
Institute for Integral Enneagram Studies and
President of
Optimized Results
415.826.0478

Kind Ambition
Click HERE

Kind Ambition:
Practical Steps
to Achieve Success
Without Losing Your Soul

Kind Ambition
Fan Page
now on
FACEBOOK
Kind Ambition is about you having the tools to slide over to the driver's seat of your own life. Circumstances will always be changing, seemingly thwarting our plans, but we don't have to be thrown around by them. You can be in charge of your choices and actions more than you might imagine - yet.
Kind Ambition is written for you, as a practical guide you can use right now. It is a collection of insights and actions designed to help you move forward and get more out of your life at home and at work. The chapters hold to a formula of first giving you a new way to look at things, then offering you tangible Action Steps to try them out, and finally some things to notice when you do.
Kind words for "Kind Ambition"
"If you are interested in success, whether it is in running a large organization, a small business, or leading a satisfying life, you will find a right blend of rules, wisdom and wit in a digestible fashion that will serve to accomplish your objectives. The notion that kindness can be blended with ambition and made to work and serve the "bottom line" is enlightening, uplifting and satisfying."
-Steven Kiefel – CEO, Red Pill Media
"An easy to use guide for anyone who wants to achieve real growth and success. His sensible and practical tactics solve age-old challenges with real, how-to solutions. Best of all, Ian lives his work!"
-Romanus Wolter - Author: Kick Start Your Dream Business
Success Coach Columnist: Entrepreneur Magazine
Radio Host: Syndicated Kick Start Guy Segment
" We all face obstacles in our lives and careers. Some of these come from within, subverting our conscious intentions. The good news is: they can be overcome. The techniques and processes found in this book will help you on your way."
-Margaret Heffernan – Author: The Naked Truth: A Working Woman's
Manifesto on Business and What Really Matters
Syndicated Columnist: Fast Company Magazine
"A scientifically-based, spiritually-awake, (and smart and funny) guide to making the most of your life. Ian Blei provides the know-how, the inspiration, the structure and all the tools you need in this straightforward and inspirational book."
-Lisa Betts-LaCroix, Past President of SF Coaches
Star of Unapix film, "Dance Me Outside"
" Ian Blei shares his deep insights in simple and straightforward ways. His work continues to inspire me whenever I feel I'm getting stuck in some area of my life."
-Roy King, III , Senior Partner/Channel Marketing Manager - Skype